Irene Neuwirth Chrysoprase and Diamond Earrings
The Covet List: Irene Neuwirth Earrings
We believe in strategic spending: each season we invest in a few good pieces that we believe will withstand the test of time and changing styles, and then we fill in the holes with affordable goodies from brands like Zara, H&M, and Target collaborations. Every Friday, check in for the latest item from our Covet List.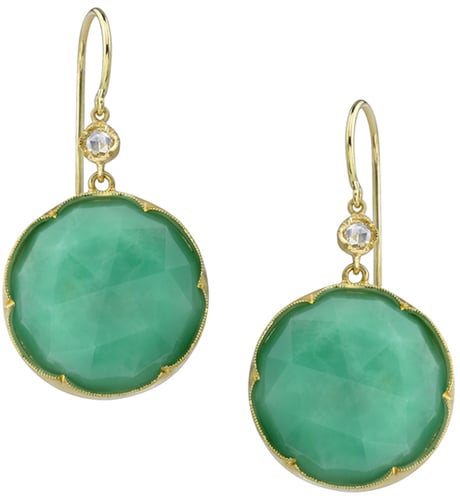 The Piece: Irene Neuwirth Chrysoprase and Diamond Earrings

The Investment: $2,880

Why We Covet: Irene Neuwirth's unique designs always seem to include exotic gems in colors so beautiful you can't stop staring at them. Case in point: countless celebs like Julia Louis-Dreyfus, Reese Witherspoon, Rashida Jones, and Halle Berry have all dazzled while wearing her jewelry. Irene cites the ocean as a major influence in her work, and we can imagine these earrings and a flowy dress taking a walk down the beach at sunset. Fun fact: chrysoprase (sometimes called Australian jade) is a rare form of quartz, and small amounts of nickel give it that vivid green color.