Irina Shayk Style (Interview)
Sports Illustrated Hottie Irina Shayk Chats Bikinis and Lingerie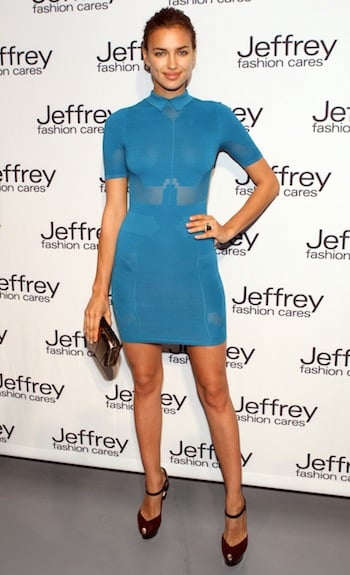 You may know Russian model Irina Shayk for various reasons: she was the 2011 cover girl for Sports Illustrated's Swimsuit Issue, she walked Kanye West's Fall 2012 show, and she is rumored to be dating soccer stud Cristiano Ronaldo. We got a chance to catch up with the gorgeous girl — pictured here in an Alexander Wang dress and Christian Louboutin shoes — and gabbed everything from bikinis to lingerie to her experience working with Kanye. Read all about it now!
CelebStyle: You always look sexy no matter what you wear. What tips can you offer readers who want to exude that look?
Irina Shayk: I think you can wear anything you want, you just need to feel confident in yourself. I love to wear comfortable clothes so that they feel like my second skin. I am absolutely sure that any woman can be beautiful and sexy and there are no standards of beauty. A very important thing is to wear comfortable and beautiful lingerie. I personally prefer Intimissimi, as it makes you feel very sexy even when you wear a t-shirt and jeans.
CS: What style of bikinis do you love to wear when you hit the beach?
IS: I love a small Brazilian bikini, that's why people think I am from Brazil. I love to have a small tan line and Brazilian bikinis are perfect for it. I have a huge collection of bikinis at home, many of them come from Sports Illustrated that I have done for six years already.
To hear more from Irina, read more.
CS: How would you describe your personal style?
IS: My personal style is very easy and clean. I love to wear very comfortable clothes that make me feel amazing. I like to mix styles, and lately I've been buying vintage clothes.
CS: What is your shoe personality?
IS: I have passion for shoes. When I saw Kanye's white button shoes from his last collection I fell in love with them, they are absolutely amazing. Not to mention, extremely comfortable and very special looking.
CS: How did you get involved with Kanye's show?
IS: When I got a request to participate in the show, I was very thrilled and agreed immediately. I consider Kanye West to be one of those rare people that bring new ideas into the world. He brought art into music, and now he is releasing his passion for fashion and I think that it's absolutely amazing! It does not happen to many of musicians. He has a good eye for fashion and he is not scared to try new things.
CS: What was backstage like for that show?
IS: Backstage was absolutely crazy! Plenty of amazing clothes and jewelry, sexy shoes and great people. The atmosphere was really cool because every model was so excited to do that show and the team was very professional and friendly.