Isabel Marant Interview About Her Wedge Sneaker
Isabel Marant on Why the Wedge Sneaker Craze "Breaks My Heart"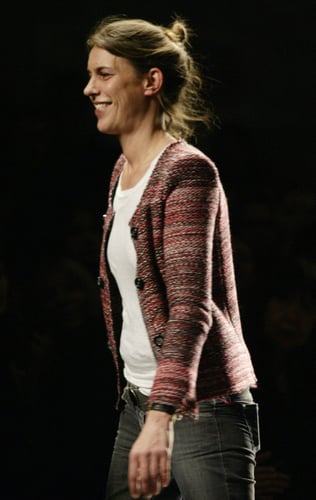 At a special preview of Isabel Marant's latest, and possibly greatest, store in Paris, I met the designer responsible for years of fashion obsessions (ahem, wedge sneaker, anyone?), and was not that surprised to meet a designer as genuinely cool and effortless in real life as her namesake collections. Dressed in skinny gray jeans, high-heeled booties, a loose tee, and a fitted leather jacket, Marant was jovial and easygoing, which was extraimpressive in light of the fact that her Spring 2013 show was only two days away. Over croissants and fresh-squeezed juice, I got to check out the store — a gorgeous old building surrounded by bamboo on the busy, shop-filled Avenue Victor Hugo — and speak with Isabel to get her thoughts on style, her goals, and why the craze around her wedge sneaker is such a double-edged sword.


Marant created the wedge sneaker, one of those genius "why didn't I think of that" creations that melded our need for comfort, our love for sportiness, and our instinct for anything with a heel. It became one of the biggest trends in footwear, spawning dozens of knockoffs. Said Marant, "I cannot say I'm surprised, because I worked a very long time to achieve it. It took a long time because when you have a wedge in the shoe it can be very bulky. When I finished it, I knew it was going to be a hit, and that it would be copied." And how does she feel to see those dozens of knockoffs? "Sometimes it's a bit too much for me. Seeing all those ugly copies — that really breaks my heart, because very often it gives a very vulgar twist [to the sneaker]. I'm not very fond about that."
But there are brighter spots to focus on, and Marant lit up talking about her forthcoming LA store (slated to open in December). "The store in LA will be one of my favorites," she said. "I love the space; I was about to keep it as a house for me," she added with a laugh. Of choosing a space, she compared it to her art. "I have to fall in love with a space, there must be something happening. I'm very attached to location, to the feeling and atmosphere of a space."
With so many stores opening around the world, and a brand that is coveted by cool girls everywhere, what else could Marant want? I asked her about her goals for the future, and opening stores was not one. "Working less and spending more time with my family — woman things, like being a mom. I'm working a lot, and my son is asking for me," she said with a big laugh. With that she said goodbye, donned a helmet, and hopped on her scooter outside, jetting off to her office to prep for the big Spring 2013 show.

Check out FabSugar's Instagram feed for pictures of Isabel Marant, her store, and much more from Paris Fashion Week!