Jaime King Style and Interview | August 23, 2012
60 Seconds With Jaime King: Fall Shopping, Style M.O., and More
We found a familiar face in the crowd a last night's celeb-filled Clos du Bois Rouge launch in LA — the gorgeous Jaime King stepped out for the occasion in a coral-hued Jason Wu cocktail confection, making us fall even harder for her killer style — and her pretty awesome fashion philosophy. Stylish both off — and on screen as Hart of Dixie's Lemon Breeland — King also has some pretty poignant advice to pulling off a look as chic as her own at last night's fete (see below), plus the fashion wisdom she's garnered from her TV alter-ego. Read on, in the next 60 seconds, you might become as smitten as we are.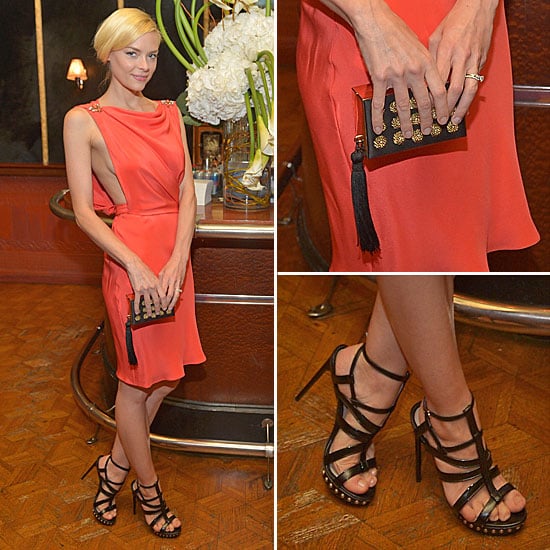 On her Fall shopping list: "There are these really great Chanel loafers that I'm dying to have. There's this beautiful dress from Calvin that's white, that I really love. Madewell has a really kick-ass couple of pieces. There's a brown leather backpack — lots of fun stuff."
On her style philosophy: "Find your best feature and accentuate it. Something you feel really confident in. I really like, I guess, my neck and my shoulders. So I try to wear things that accentuate that. I never wear short things. I'm not into showing off my legs. Not because I don't like them, but I'm more modest. I feel like it's much more elegant to kind of be sexy while covering up."
On up-and-coming designers she loves: "I really love Haider Ackerman. He's amazing. I really love Prabal [Gurung] . . . There's so many fantastic designers that I love! I really like McQ."
Jaime talks Hart of Dixie and why we won't see her at Fashion Week after the jump.
What's in her clutch: "Literally, bright orange lip gloss and my phone. I mean, this is like my jewelry! I don't want anything to mess it up."
On how her Hart of Dixie character has influenced her style: "I think how together she is, in the sense where everything is really well thought out. Now before I walk out the door and put my hair in a raggedy ponytail, I gotta be like: put it together a little."
On Fashion Week: "I'm an ambassador for Stand Up 2 Cancer, and it overlaps so I don't feel like I can go to Fashion Week when that's the most important thing to me. I've done so much work for them and it's so important to me."
Additional reporting by Lindsay Miller