Jamie Chung Style (Interview)
Designer Jenny Han Dishes All About Her Muse, Actress Jamie Chung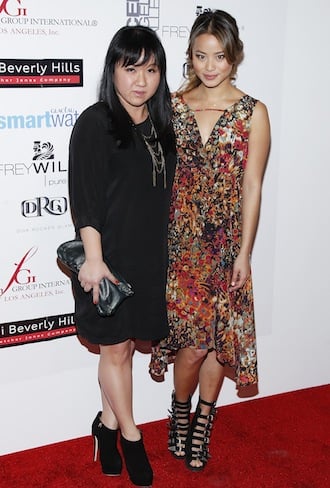 Fashion Group International's Meet The Designer & The Muse event took place in LA a few days ago. Our favorite designer and muse pairing of the night? Designer Jenny Han and actress Jamie Chung. So what was the affair all about? "The Designer & The Muse happens every season during LA Fashion Week," Jenny told us. "It is a great event that showcases Los Angeles's diverse fashion industry and the women who inspire designers each season."
Jenny and Jamie met at an LA event about a year ago and formed a friendship. They often work together for events as well as everyday dressing. Since Jenny knows Jamie's style so well, how would she describe it? "Jamie's style is girlie with an edge. It's a cross between downtown girl meets unpredictable girl next door. She knows how to mix high and low in a fresh way that always inspires me whenever I see her," Jenny said.
And what is it that inspires Jenny so much about Jamie's fashion sense? "She's not afraid to take risks and mix it up, and the end result is very effortless and fresh," Jenny spilled. "Jamie's knowledge of fashion and being able to mix prints and colors makes her a budding fashion icon." If you too are inspired by Jamie's style, here are some tips from Jenny on how to get her look. "Definitely taupe or beige ankle bootie, a moto jacket, and anything in floral print." To shop a few of Jamie's go-to pieces, read more.