Jason Wu Fall 2012 Inspired Style
In the Mood For . . . a Little Asian-Inspired Romance
There are some movies we'll never take out of our rainy-day rotation, and Wong Kar-wai's nuanced romance In the Mood For Love fits the bill. While we're mostly swept away by its lush portrait of an unlikely star-crossed relationship, it's the gorgeous 1960s-inspired wares we're looking to right now for a little Fall pick-me-up. Brocade finishes are tinged with embroidered fabrics and costume jewels are adorned to modestly-cut sheaths, and all in the richest prints and sultry red tones. The more we daydream about these luxe designs, the more we see a connection between this retro love story from Hong Kong and the chinoiserie influences spotted on the Fall '12 runways.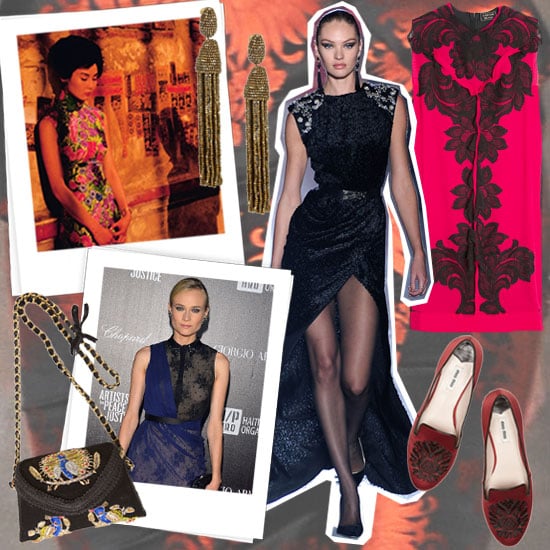 Clockwise from left: Wong Kar-wai's In the Mood For Love, Oscar de la Renta Beaded Tassel Clip Earrings ($395), Jason Wu Fall 2012, Lanvin Lace-Appliquéd Silk Chiffon and Satin Dress ($4,995), Miu Miu Embroidered Satin-Covered Leather Loafers ($650), Diane Kruger, Zara Embroidered Velvet Box Evening Bag ($80)
Jason Wu left no decadent stone unturned with a nod to sensual Asian-inspired silhouettes, and we have stunning leg-baring gowns to show for it. Alber Elbaz showed off his affinity to ladylike dresses, all absolutely dripping in jewels at Lanvin, which provided just the right amount of feminine glamour. And at Oscar de la Renta and Miu Miu, the focus on nostalgia abroad was honed in via bold embroidered details and even bolder gem-encrusted accessories. As we head into a season fraught with icy temps and a more covered-up styling approach, let these inspired finds remind you that Fall is begging to be drawn upon for its dark, moody (read: chinoiserie) romance.