Jenna Lyons in J.Crew Shoes Video 2013
J.Crew's Jenna Lyons Has 289 Pairs of Shoes, Indulges Our Love of Them
Our girl crush on J.Crew president and executive creative director Jenna Lyons has increased exponentially with the brand's latest behind-the-scenes video. How to sum up the video in one word? Shoes. Just shoes on shoes on shoes; and to top it off, Lyons provides her own shoe-lover commentary, which is punctuated with anecdotes about how J.Crew produces all their shoes in Italy, how many pairs she (currently) owns, and what the difference is between "ugly dollies" and "shiny ponies." Read on for the best bits from Lyons's shoe-themed talk, then watch the video in full (you won't be disappointed).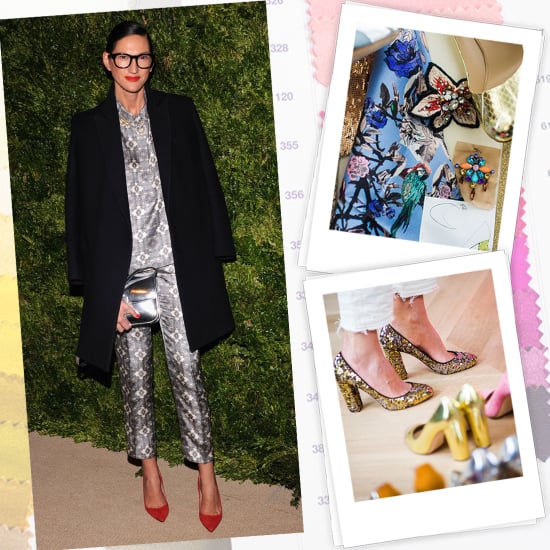 On styling: "As far as I'm concerned, leopard [print] is a neutral."
On how many pairs of shoes she has: "I have far too many shoes. I think I have 289 pairs, I believe . . . yeah. Some of them I realize I haven't actually worn but I like to look at them."
On the power of a great shoe: "Anyone who thinks your shoe isn't informative about who you are is making a mistake. A five-inch stiletto sends a very different message than beaten-up oxfords."
Keep reading — and watch the video — here.
On where J.Crew design inspiration stems from: "I think inspiration can come from everywhere. It can be from an old movie you saw, it can be from something you feel like you're missing in your closet. Sometimes that design inspiration is like a river, picking up things along the way. Sometimes what happens is the shoes come in, and we call them 'ugly dollies' when they don't work out, and then sometimes they're beautiful shiny ponies, and the shiny pony one season was the Etta."
On how the shoe process works: "We have been making our shoes in Italy since I joined the company, which is 22 years. I feel like half the people in the little town where our shoe factory is work in the factory — there's a level of family and intimacy in the factory, which is pretty incredible."
On why she loves shoes: "There's a sense of sparkle in a shoe, and I don't mean a sparkle like sequins; I mean that little extra. . . . Shoes are like fairies — that little magical piece that finishes everything. I can throw on a silver five-inch-heeled pump, and all of a sudden, I feel a little bit prettier. Shiny ponies, here they come."