Jennifer Aniston Wanderlust Style
Wanderlust Opens Friday — Find Out Jennifer's Jewelry Personality in the Flick
Jennifer Aniston's newest comedy, Wanderlust, hits theaters this Friday, but before you head out to see it, find out more about her character Linda's style. In the clothing department, Jennifer starts off very corporate with blazers and button-downs, but as the movie progresses and she moves to a rural commune, her style gets more and more lax. Even a bit hippie influenced with cutoff shorts, ponchos, and peasant tops. As for Linda's jewelry personality, we'll let jewelry designer Jennifer Meyer Maguire — yes, that's Tobey Maguire's wife — explain since that's her dome ring (left) and diamond stick necklace (right) on Jen.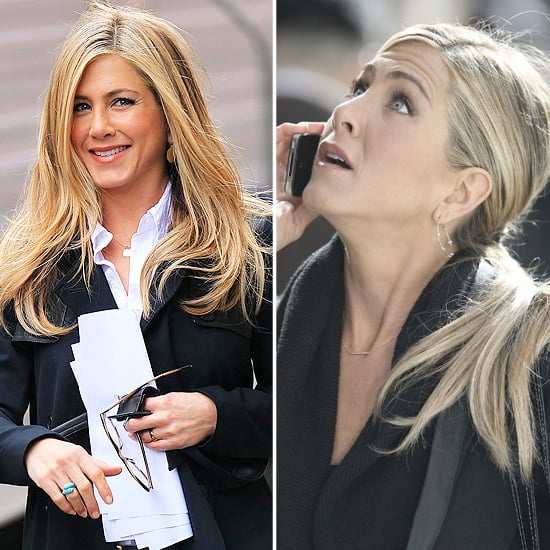 CelebStyle: How would you describe your jewelry personality?
Jennifer Meyer Maguire: I am a working mom and wife, and expect my jewels to go effortlessly with me from day to night. I also like those pieces to have personal meanings to them. I am never without my two diamond letter necklaces, one for each of my babies' initials.
CS: How did you go about getting your jewels on Jennifer for the movie?
JMM: Whenever I get a phone call regarding a project for Jen, I grab as many beautiful pieces as I can. Jen is the ultimate style icon and completely hands-on when it comes to crafting her character's look. If my jewels happen to fit into that vision, then it is such a pleasant surprise.
CS: What made you pick those pieces in particular?
JMM: I try to always send her pieces that I think reflect her innate sense of style. Simple yet elegant with an occasional touch of color.
CS: What do you love about each of those pieces?
JMM: I love that the pieces allow Jen to shine through. It never feels like they are wearing her, but rather the other way around. You see the beautiful woman, not necessarily the jewels, and that is the goal.