Jennifer Lawrence's Catching Fire London Premiere Dress
Jennifer Lawrence Is Always Winning the Red Carpet Games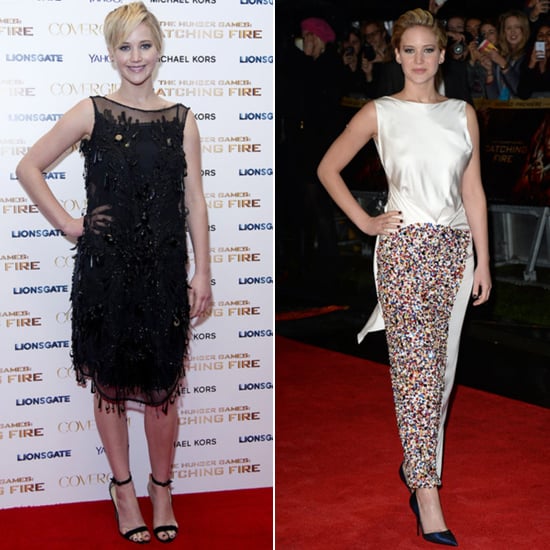 Is there a red carpet she doesn't rule? After sweeping awards season last year, Jennifer Lawrence is back on the premiere circuit for Catching Fire — and we think we just caught her best looks yet. Jennifer stepped out for the film's London premiere in a sparkling Dior Haute Couture gown — and, of course, she showed off that spunky new haircut. Afterwards, she did a quick-change for the afterparty in a flirty, sequined Louis Vuitton LBD. As far as we're concerned, Jennifer is always winning, but we'll let you see for yourself.
Click through, then tell us your thoughts on Miss Lawrence's latest looks in the comments.

Jennifer took the red carpet at the Catching Fire world premiere in a white column gown with gorgeous multicolored sequins down one side of the skirt.

The actress glowed in her creamy white sequined gown.

From the side, we got a glimpse of the gorgeous draping — and a little leg.

A closer look at the beautiful, revealing back.

Jennifer stepped out for the Catching Fire afterparty in a flirty black Louis Vuitton number.

From the back, Jennifer revealed a little more skin in her party dress.