Jessica Alba's Metallic Boots in LA Parking Lot 2012
Jessica Alba Can Now Call Herself a Master of Metallics, Too
As POPSUGAR editors, we independently select and write about stuff we love and think you'll like too. If you buy a product we have recommended, we may receive affiliate commission, which in turn supports our work.
Jessica Alba may have been wearing all black, but it definitely wasn't indicative of her outfit's subtle elements of texture and color (yes, color). The actress — who normally doesn't stray far from a bright, neon-infused palette — peppered in her penchant for vibrant hues within a wintry context, providing styling inspiration no matter what coast or climate you find yourself in. Her loose-fitting black dress was, in effect, the primer for one very cool black shaggy-knit vest. Note: when layering black on black, this is an easy way to inject instant dynamic so the look doesn't fall flat. As for the accessories, and this is where we come face to face with Alba's styling genius, it's all about standout (read: contrast) pieces.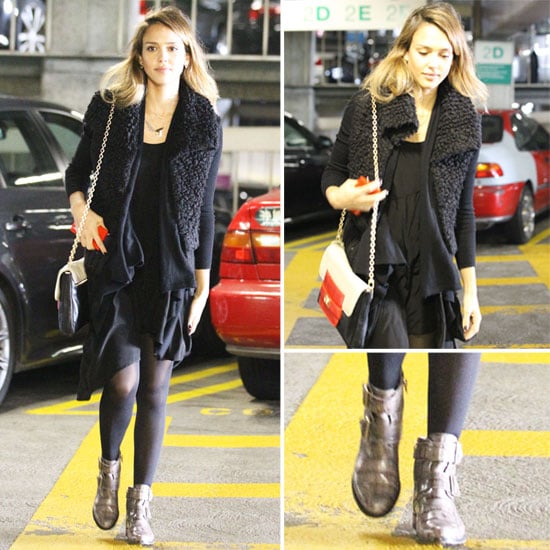 Her metallic boots were not only awesome due to their slick gold finish, but they also happened to punch up her dark silhouette with something akin to a quick flash of holiday sparkle. If it's a statement you're looking for, full stop on the shiny (in a good way) boots. But, if you're going all in, then look to her colorblocked Diane von Furstenberg chain-strap bag for one more lesson in bold accents. From head to toe, Alba looked prepped for chilly temps, while never falling victim to unflattering layers and uninspired Winter footwear. It all works, and we want to follow suit.