Jessica Alba in Pink Dress at Golden Globe Nominations 2012
Jessica Alba's Pink Peplum Dress Will Work Wonders For You, Too
As POPSUGAR editors, we independently select and write about stuff we love and think you'll like too. POPSUGAR has affiliate and advertising partnerships so we get revenue from sharing this content and from your purchase.
There's the more obvious reason why Jessica Alba looked amazing — do we even need to elaborate? — and then there are the other reasons why her pink peplum Christian Dior dress and nude crisscross pumps worked so well here. The actress went for flirty and bright for the 70th annual Golden Globe Awards nominations earlier this morning, and let's just say, we were more than a little impressed with the form-flattering outcome. Yes, Jessica pretty much looks great in everything, but we've culled three styling takeaways — ones that apply to us, the non-red-carpet set — from Jessica's latest so that we can all make the fit, color combo, and nude pumps work for us too.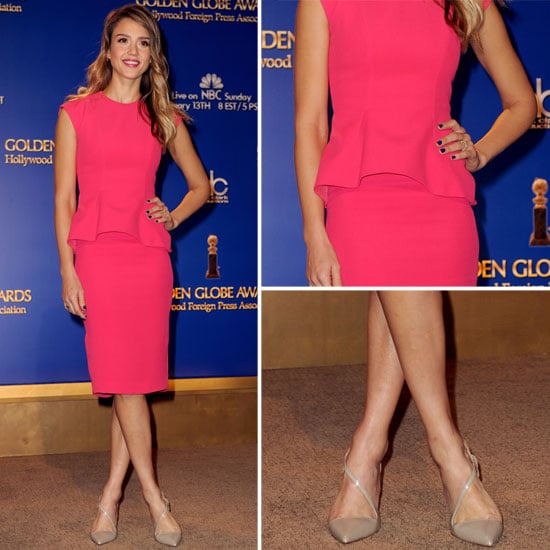 You already know we're pushing for styling festivity while it's still the (holiday) thing to do, but we have to hand it to Jessica, her bright pink dress stole the show. Which got us thinking — perhaps the key to a scene-stealing fashion moment is knowing what works for you, cut-wise, and then kicking it up a notch in the color category. We're into it. Follow suit by forgoing the lace metallics and emerald greens, and opt for a jewel-toned fuchsia or a royal-purple hue instead. Or, just do as Jessica did, and go with bubblegum pink.
The peplum silhouette is king. No, really. It has the ability to create shape and hide unflattering bits all with one flared fabric detail. We think what Jessica did was smart — she donned a peplum dress that wasn't too body-con — and to get a similar effect, look for peplum dresses that aren't tailored too close to the body and don't feature overtly sexy details, like a sheer front-V panel.
We're aware of the split opinion on nude pumps; some people love them, some people hate them. All we'll say to this effect is, she did right by this sexier crisscross version. By choosing a neutral tone over a more stark black option, she kept the attention on the dress; moreover, she didn't make the elements of her outfit compete. We're feeling this latest take on the colorful dress and toned-down shoe combo, and if you're looking to make a statement without too much noise, this is it.