Jessica Alba Wearing Colored Jeans (Brad Goreski Interview)
Brad Goreski on Jessica Alba's Colored-Denim Obsession and More!
Celebrity stylist Brad Goreski's famous clients include Jessica Alba, Rashida Jones, Demi Moore, Christina Ricci, Minka Kelly, and Shay Mitchell. The dapper fellow is currently on a nationwide tour with eBay as part of the Selling Style Studio, and we got a chance to catch up with him on his LA stop. We chatted everything from Jessica Alba's colored-denim obsession — "I can't take credit for all of the looks" — to what pieces you need to buy to get her look to his styling techniques. Get the full scoop below!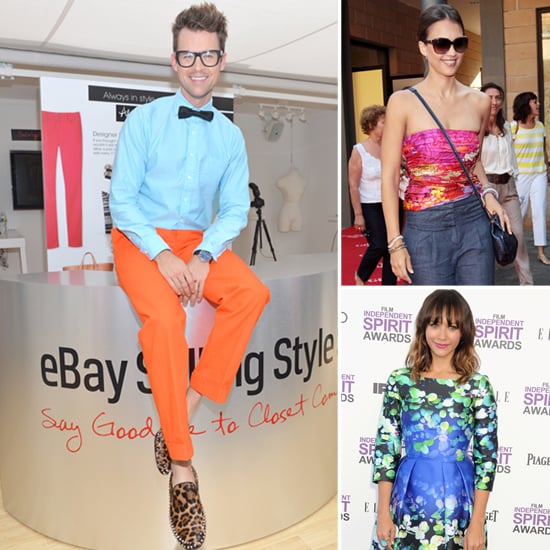 CS: What is your approach to dressing clients and does it differ according to the person?
BG: It does, absolutely. Me and my assistants pull specifically for each client, and it's all curated toward a direction that I think they should go in. If we've been doing a lot of ladylike looks, maybe it's time to try something a little more minimal or something that's Far East-inspired or gypsy look or something bohemian. We always try to come in with a plan and a vision.
CS: And how involved are the clients with this process?
BG: It's always collaborative. I think you want to bring things to your clients that you know that they'll like and also bring things that you're trying to push them in a certain direction. And it's my job as the stylist to do that. I think if I'm just bringing things that they would normally gravitate to, I'm not really doing my job.
To hear more from Brad, and to shop Jessica Alba's signature style,
CS: So speaking of photos going everywhere, we've been covering all of Jessica Alba's colored jeans. Was that something that you guys collaborated on together?
BG: It's funny, the first pair that came in were the Kate Spade red Broome Street jeans, and I remember I gave her the package and she's like, "I just don't know how to do colored denim," and I was like, "OK, here's what you do. You wear it with something neutral so the jean is like the standout thing and so, unless you're gonna colorblock, you want to wear gray, white, black, something kind of neutral on the top. For your style, try like a black blazer and a white t-shirt and just keep it really cool." And then, she just started, and now she has an entire rack of printed denim and colored denim. It's amazing the stuff she comes up with. She keeps it looking fresh all the time. I can't take credit for all of the looks.
CS: If somebody wants to get Jessica Alba's look, what are five essential pieces they must go out and buy?
BG: A scarf, a really good handbag, something that makes a statement, preferably in a bright color or with some sort of studded detail. Jessica always has a great handbag. Colored denim, for sure, and then layering pieces, whether it be a denim jacket and a t-shirt or a denim vest. I've coined her the queen of layering because she just gets it right. She throws on the perfect mixture of everything. So color denim, statement bag, scarf, layering pieces, and a hat.