Jessica Alba Wearing a Leather Jacket | Dec. 14, 2012
The Anatomy of an Edgy (but Not Over-the-Top) Ensemble
As POPSUGAR editors, we independently select and write about stuff we love and think you'll like too. POPSUGAR has affiliate and advertising partnerships so we get revenue from sharing this content and from your purchase.
When you venture into edgy styling territory, there's a fine line between creating a look and looking like you're with the band. Buckled boots, leather jackets, spikes, and studs can easily overrun your entire ensemble — unless, of course, you do it the Jessica Alba way. The style setter has a pretty masterful way of playing with the trends, without letting statement pieces take over her cool-girl aesthetic. Her latest street-style moment supplied us with one perfectly constructed edgy ensemble — and we're breaking down just why it works right here. Read on for the anatomy of this standout style.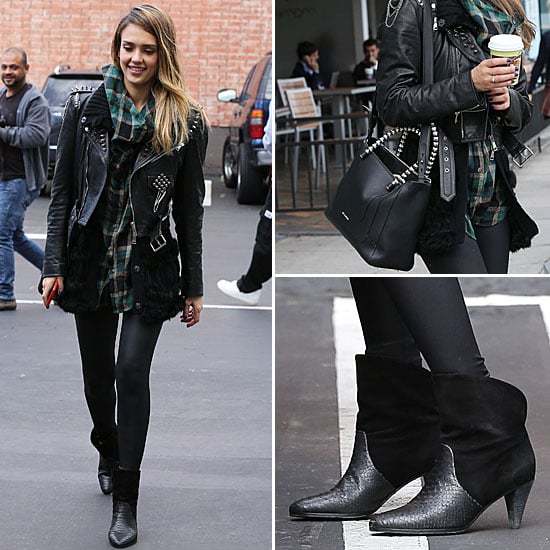 Three key pieces in Jessica's ensemble made bold references to the grunge vibe. Her plaid button-down, studded leather jacket, and coordinating studded bag all provided that underlying edginess, so there's little need to play up the feel any further with added tough-girl accoutrements. The rest of the look is about balancing out those pieces with sleeker ones.
Instead of rounding out the look with denim, Jessica took a slick approach with body-conscious legwear in black. Leather pants would too closely mirror the rocker vibe we already get from her black leather jacket, but a pair of staple black skinnies or black leggings provides a chicer complement.
Jessica worked in another counter, adding a furry vest to provide an unexpected element of luxe. Her footwear also helped to balance out the edge; rather than looking to biker boots, she opted for a pair of low-heeled ankle boots with supple suede and a healthy dose of textural elements. They may seem like small additions, but each of these pieces helped to give the look more of a street-chic than concertgoer feel.