Jessica Alba Wearing Printed Jeans | August 21, 2012
Three Lessons Worth Learning From Jessica Alba's Latest Style Moment
We can always rely on Jessica Alba to turn out the variety of street style that's both coolly crafted and easy to re-create. Case in point, the style star has an affinity for printed or bold-hued denim, but never lets the standout bottoms override her sense of style. Instead, she expertly (and effortlessly) works them into a head-to-toe look, like her latest while out in LA, proving that statement bottoms are just as easy to outfit as any other denim staple. Looking for the same breezy styling results? Alba's a shining example of the trick to not overthinking it, and we've culled all the styling tips you need to know to make it work.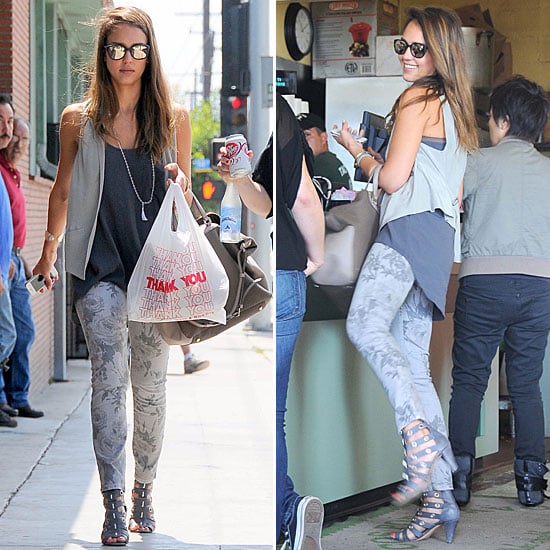 Keep it in the same color family. We love that Alba started with a pair of these subtly-hued Current/Elliott floral printed jeans ($198). She then selected her other pieces in a similar gray palette, which helped to keep the look from going over-the-top — the darker grays also happen to be perfect for the transition from end of Summer to early Fall.
Use your statement accessories sparingly. When working with printed pants, you're already on your way to crafting a pretty eye-catching look, so there's no need to go overboard with the add-ons. Like Alba, opt for a few seasonally-minded pieces that will amp up, not take away from your look. She chose a pair of mirrored shades, a long silver chain, and a pair of studded gladiators all in the same subtle hues to give a little edge to her look.
Proportions are (really) important. When things are too short, too tight, or generally ill-fitting, you'll never achieve the effortless look you're hoping to. Alba manages to make the whole thing work seamlessly, contrasting her slim-fit bottoms with a loose-fitting tank and likewise slouchier vest layered over top.