Jessica Biel Bikini Style June 2012
Jessica Biel Masters Sexy Surfer-Cool — Here's How
Beach season means getting your bikini style down pat. If you're looking to nail the insanely sexy and utterly cool surfer-chick vibe, look no further than Jessica Biel. With fitted surfer gear on top and a string bikini on the bottom, she taps into that laid-back California girl vibe that's simultaneously sporty and effortlessly sexy. The bonus is that it's also insanely easy to re-create; just read on for our tips to channeling one of the hottest beach styles this Summer — no surfboard required.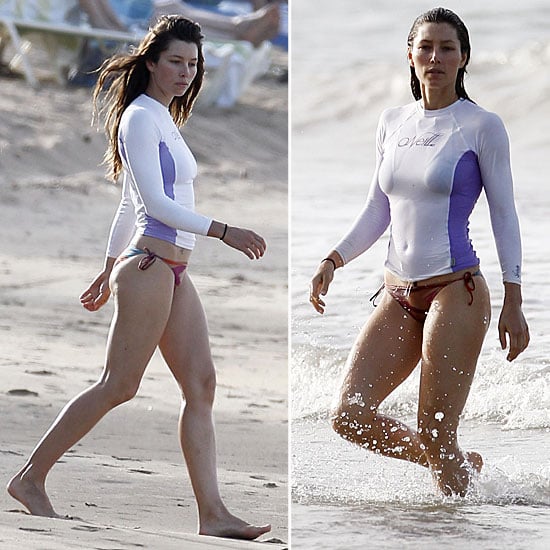 This look is cool because it's low-maintenance, so don't overcomplicate it with additional accessories. In this case, stick to bright colored flip-flops and sporty-styled shades, like a great pair of aviators.
Keep your swimwear on the sleek and simple side. Avoid ruffles or embellishments that might detract from the smooth, curve-conscious fit of the rash guard. Your best bet is a classic string bikini or basic two-piece. If you want to add interest, look for a bold print like Jessica or opt for a brilliant eye-catching hue.
Keep your beauty routine understated like Jessica. Long beachy waves or a sexy undone do will complement the carefree vibe of your surfer-girl ensemble.