Jessica Hart in Leopard Scarf and Red Loafers in NYC
Jessica Hart Shows Us How to Look Perfectly Thrown Together
As POPSUGAR editors, we independently select and write about stuff we love and think you'll like too. If you buy a product we have recommended, we may receive affiliate commission, which in turn supports our work.
We know it's the busiest — and most wonderful — time of the year, which usually means that not every outfit can be as put together as the last, especially where errands and holiday shopping are involved. We get it, we're right there with you. But to stay as on-point as possible, let's look to Jessica Hart's wintry attire for a quick burst of accessorized motivation. She's provided the perfect example of what to do — and wear — when you want to keep things simple but interesting, and here's why.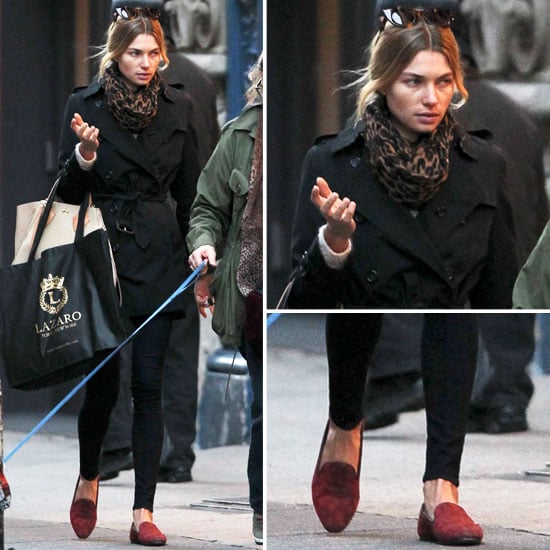 Her black leggings and cinched black trench coat proved equally chic outfit choices. You really can't go wrong with an all-black palette . . . ever. But if you're not one to go the dark monochromatic route, the trick here is to keep it neutral and, preferably, tone on tone. We're assuming this is the kind of outfit you've just thrown together (to get out the door that much quicker), so if this is the case, opt for no-frill basics and a cozy classic coat.
Oh hello, awesome leopard-print scarf! Amazing how one printed detail can so easily and instantly make an outfit come to life, right? We say, follow suit on this detail, or, if you prefer a different print — say, a giraffe print or an optic rendition? — go with that, but wear the print in a more subtle color. Browns, blacks, creams, and so on work best.
The reason for keeping the wild-printed scarf not so wild? Just look to Hart's pop of red for your answer. The shoes take the cake in this outfit, and so we're paying homage to her expert accenting with a similar brand of red smoking-slipper excellence. These sultry-hued loafers are the perfect shopping companion — slip them on and go — and, quite frankly, they add enough polish to make the rest of the ensemble stand on its own sans fancy layers on top.