Jessica Hart Street Style | August 30, 2012
Jessica Hart Gives Sporty Shorts a City-Slick Makeover
We were never too fond of gym shorts in high school, but we're newly convinced of their style potential, thanks to Jessica Hart's breezy end-of-Summer look. The Australian beauty drew inspiration from the sporty trend to give a newly chic identity to the athletic gear of our past. With a couple of simple styling tricks, you can master the look all on your own.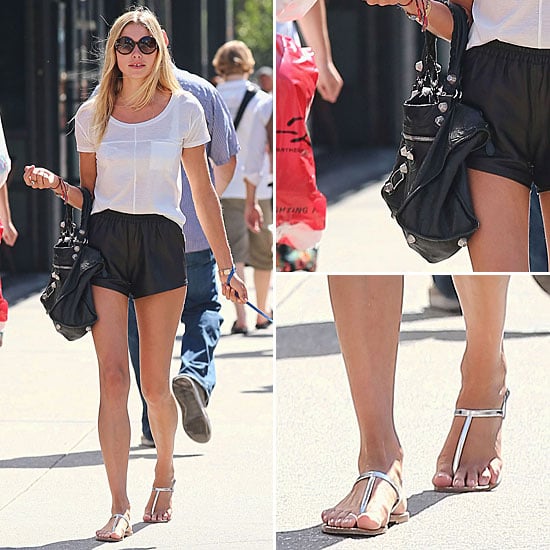 Keep it simple. Sporty shorts like Jessica's are meant to feel laid-back, so don't overthink your outfit. Look to Hart and opt for an easy, slouchy (but not oversize) tee to top your bottoms. Likewise, an understated palette like Jessica's black and white will give your look a chic, stylized edge.
Don't interpret the trend too literally. Actual gym shorts will look just like you're headed to a workout; instead, look for a pair that feel sporty, like this faux-leather version. The drawstring waist will lend an athletic vibe that's easy to style with your other wardrobe staples.
Opt for cool-girl details. Another way to keep your look from seeming like your actual workout gear is to add in killer details like Jessica's luxe Balenciaga bag, oversize sunglasses, and a pair of silver metallic sandals. Note: you can opt for sneakers, but stick to cool kicks like a pair of Converse, printed Vans, or luxe high-tops to complement your slick style.