Jockey's New Bra Sizing System
Bra-den Your Horizons: Is Jockey's New Sizing Method For You?
Underwear brand Jockey International might just have the solution to all your bra-sizing problems, thanks to its new Volumetric Fit system. Breaking with the standard measurements (32A, 34B, 36C, and so on), this eight-years-in-the-making revolution takes into consideration bust size and the actual shape of the breast. If you're one of the lucky ones, you've already found a bra — and a brand — that has the right fit for you. But according to a Wacoal study, eight out of 10 women wear the wrong bra size. That's where Jockey's new method comes in.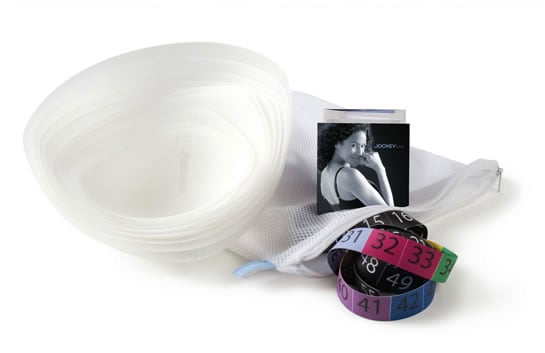 The fit kit is available online for $20 and includes 10 plastic cups, measuring tape, a lingerie garment bag, a $20 Jockey coupon, and a money-back guarantee. Customers are meant to use the cups to see which shape works best, and then measure their rib cage. In the end, the customer will have a size that reads something like 5-34, the former number accounting for the shape of the cup, and the latter number accounting for rib cage size. Jockey may be breaking the mold, but with this kind of change does come inevitable marketing barriers. In this case, the bra is only offered in three colorways (beige, white, and black) and is priced at $60. To this point, Sally Tompkins, one of Jockey's senior vice presidents, conceded: "It is a high price point. It's something that worried us all the way through. It's always a risk when you change something that's been in the market for a very long time, but not only are we changing the fit, we're changing the whole product." Are you interested enough to try it on for size?