John Galliano Parsons Class Canceled
Explaining Why Parsons Canceled John Galliano's Class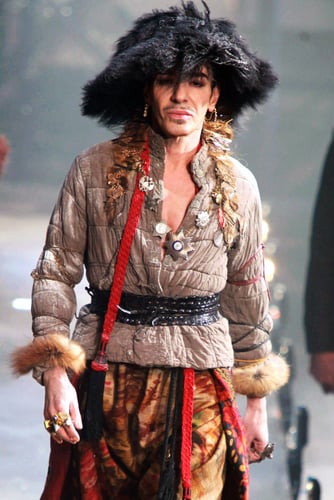 The controversial seminar John Galliano had been scheduled to teach at Parsons has been canceled, the school announced late Tuesday.
While she wouldn't address whether the class had been canceled because of a petition against the class purportedly led by students, Parsons spokeswoman Deborah Kirschner told The New York Times's Eric Wilson, "We could not reach consensus with Mr. Galliano on the conditions of this conversation, and the program could not move forward."
Another source said finalizing the content of the class — which was supposed to focus on "provoking the power of emotion in context of fashion practice" — was not what prevented the seminar from going forward. Instead, it's said Galliano and the school never reached an agreement about the size and makeup of the students in the class.
Teaching the class would have been Galliano's second temporary position in New York's fashion community after a three-week residency at Oscar de la Renta's studio earlier this year.