John Galliano to Teach a Class at Parsons
Professor Galliano: Former Dior Designer to Teach a Class at Parsons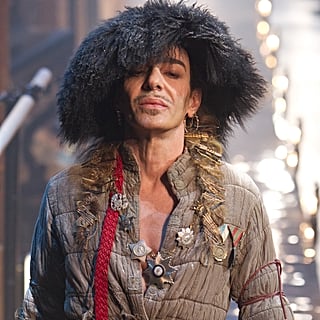 It's official: after months of rumors and speculation that John Galliano might teach a course in fashion, the former Dior designer is scheduled to teach a class at Parsons.
The school announced the four-day master class, called Show Me Emotion, in an email to its senior students and faculty over the weekend. Students will spend the first three days in the design studio with Galliano, and the fourth day will consist of a Q and A between the designer and Parsons dean of fashion Simon Collins. In the email, published in full by Dis Magazine, the school emphasized that the course would focus on "provoking the power of emotion in context of fashion practice and exploration of intuitive, perceptive manners of investigational making."
Parsons also called Galliano "a master of tailoring, construction, research, and thematic investigation" and said that he's "an unparalleled living legend capable of blending and blurring the traditional boundaries of practice."
This is Galliano's second venture back into the fashion world after working as a designer in residence for Oscar de la Renta earlier this year. He was fired from his position as artistic director at Dior in March 2011 after being accused of going on an anti-Semitic rant at a bar in Paris.