Jordana Brewster Wearing Leopard-Print Flats
Jordana Brewster Makes the Holiday Errand Run Look a Lot More Stylish
As POPSUGAR editors, we independently select and write about stuff we love and think you'll like too. If you buy a product we have recommended, we may receive affiliate commission, which in turn supports our work.
Because the holidays often mean hours of activities strung into one nonstop day, you need an outfit that can pull double (sometimes triple) duty — you need an outfit like Jordana Brewster's. We know all too well that holiday shopping can turn into lunch with friends, an afternoon movie, even an early dinner, and we hate being underprepared (read: getting caught in our sweatpants on a last-minute present run). Jordana's casualwear makes use of a few polished essentials that transform easy boyfriend denim into a sweet everyday ensemble we wouldn't mind getting caught in.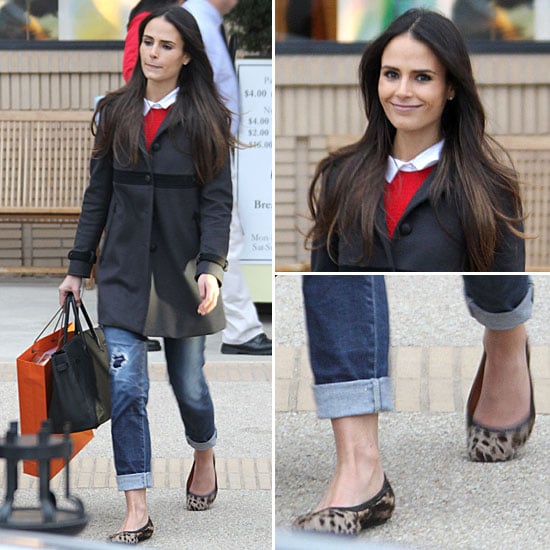 There's nothing wrong with relaxed, even distressed denim, but break from the "dressed-down" route with polished pieces up top. Jordana's red and white sweater and blouse combo is an ideal outfit solution since it's not only a welcome alternative to the t-shirt, but also scores points for its festive hue.
Outerwear is a crucial part to dressing up your look in one easy step. Steer clear of an anorak or puffer coat and look for pieces, like Jordana's, that inject a more ladylike quality. Topping off your look with a final layer that's pretty and pristine will streamline your look and set the tone for an overall more refined feel (with minimal effort).
Lastly, luxe accessories will go a long way. Jordana's Hermès tote and leopard-print flats injected a chic finishing touch. While sneakers wouldn't have the same polished appeal (and no one wants to wear heels when you're running around shopping), ballet flats lend just the right amount of charm. Of course, if you are taking this look out after your errands, by all means, slip on a pair of heels and maybe a jeweled necklace and you're good to go.