Jordana Brewster Wearing Madewell Top
Jordana Brewster Has Us Seeing Red (In the Best Way Possible)
Jordana Brewster may have single-handedly launched our new Fall color obsession — and a love for Madewell's lacy red top. While out in LA, she elevated a pair of easy boyfriend jeans with an eye-catching, pretty topper, and echoed the bold hue again on her cool Fall kicks. Red hues are nothing new, but Jordana's knack for outfitting the statement color in an effortless way is worth a closer look (and some inspired shopping).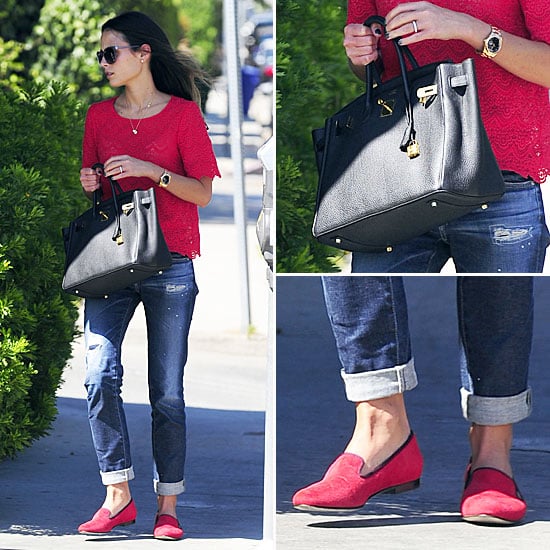 Do as Jordana does and dress up your denim with a bright red top — extra points for a pretty, textured lace version. We especially love the added contrast of a girlie top against this season's more relaxed denim silhouettes, like Jordana's boyfriend jeans.
While we're not big advocates of matching our shirts to our shoes, Jordana does succeed in coordinating her cherry-red top with another dose of red on an understated pair of loafers. When trying this at home, be sure to stick to more casual footwear like loafers or ballet flats in matte leather or suede finishes. You'll want to avoid anything too dressed-up, like a red patent pump, which will distract from the overall laid-back feel you're going for.