Julia Restoin-Roitfeld Wears All Black to Tribeca Film Festival
Styling Tips: Julia Restoin-Roitfeld's All-Black Ensembles
You know the best solution when you have nothing to wear? You go for all black. While we doubt Julia has nothing to wear in her closet, she offered up two chic all-black ensembles in just two days for appearances at the Tribeca Film Festival. Here are the lessons we've gleaned from the French fashion maven: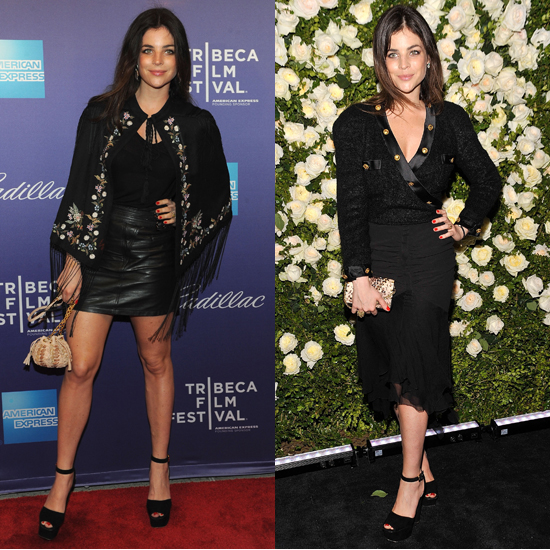 Wear Sky-High Shoes: She wore the same platform peep-toe heels, for good reason. They're super sexy.
Add Something Unexpected: Because you're sticking to one color, feel free to play with surprising mixes of styles. Julia paired a leather miniskirt with a fringed kimono cape, and the night before, a wrap sweater with a lingerie-inspired skirt. All genius.
Add a Neutral Bag: We love her choice of contrasting bags; it keeps things exciting.
Do Keep the Lip Soft: She's known to rock a red lip, but here she keeps the siren color to her nails, and goes for a soft-hued lip so that the entire look doesn't skew vamp.