Julien Dossena Appointed Creative Director of Paco Rabanne
3rd Time's the Charm: Paco Rabanne Appoints 3rd Creative Director in 3 Years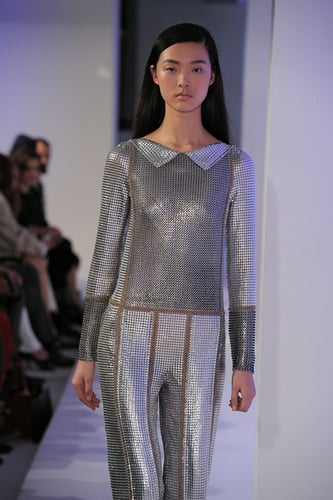 Paco Rabanne announced on Thursday that it has appointed Julien Dossena as its new creative director. Dossena will replace Lydia Maurer, who left the brand in May. He's also the third creative director the brand has appointed since 2011.
"We are delighted to welcome Julien Dossena," the company said in a statement. "His radical and innovative interpretation of the Paco Rabanne style will allow us to firmly establish our collections in the world of the most avant-garde and desirable brands on the market."
Dossena worked under Nicolas Ghesquière at Balenciaga before coming to Paco Rabanne to work on Maurer's Fall 2013 collection, shown at left. He also started his own line, called Atto, with codesigners Lion Blau and Florent Buonomano, just last month.
New York Times fashion critic Cathy Horyn was an early singer of Atto's praises. She wrote in July that the brand was created by designers who "don't care for frivolous gestures, since the pieces also serve to cover up the wearer."
Maurer, Dossena's predecessor, designed just two collections for the brand before she left earlier this year. She was brought on in June 2012 to replace Manish Arora, who had only been at the helm of the brand since February 2011.