Karl Lagerfeld on the Globe From Chanel's Fall 2013 Show
Karl's World: Lagerfeld on How He Came Up With the Globe For Chanel's Fall Show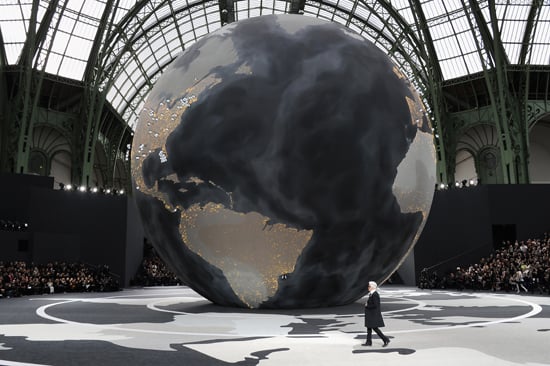 Karl Lagerfeld's globalization-themed Fall 2013 show for Chanel was dominated by the presence of a 25-meter-high globe, and the designer says the idea for it shook him out of his slumber.
"This idea comes when I sleep," Lagerfeld said during a video interview with Harper's Bazaar's Laura Brown. "I always have a paper next to my bed because I have very good ideas in the early morning just before waking up. I have very clear visions of things I could do, should do, and want to do."
But Brown doesn't just talk business with him — she also gets him to joke and laugh. When Brown says Lagerfeld resembles Angelina Jolie, the designer deadpans and says, "I don't think so. We have big mouths, that's all."
More from the interview, below.