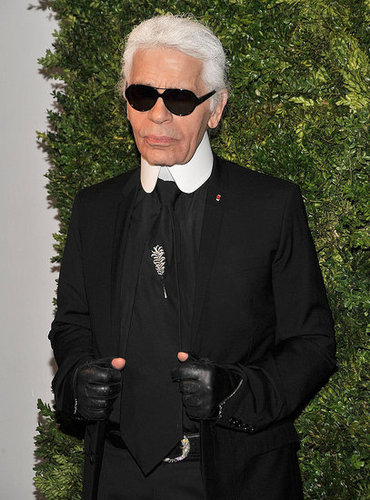 >> Karl Lagerfeld was a guest of honor as this year's CFDA/Vogue Fashion Fund keynote speaker, but before the ceremony could get underway Monday, he had a minor crisis to deal with: the vintage Chanel diamond feather brooch that was pinned to his tie (pictured left) went missing, and Lagerfeld's tablemates Diane von Furstenberg and Carey Mulligan went scouring the floor in search of it. The matter was resolved quickly, however. "I was talking to Leighton Meester and my brooch got caught in her dress," Lagerfeld said. "Security found it."
Lagerfeld, never unopinionated, recently spoke with Business of Fashion — in the video above — giving his thoughts on the necessity of technological devices, iPhones, and the like: "I think they are very beautiful. I don't use them because I use my brain, and it's up to me to imagine. I don't want to have ready-made images, I want to see the images of my imagination. But, I know how to [use them], all my assistants work with them all the time. If I need something, I can ask them — but I think they're very beautiful objects . . .  They are flawless in a way. Facebook is a flawless object…it's for me like a Brancusi. I got one [technological device] as a gift in gold ... white gold ... I got the Blackberry, too, and the iPod, I have all them from a gift, I wouldn't buy it. But somebody gave me all those things in white gold ... they are beautiful objects on the table — they are stunning — but I don't use them because I don't have to use them."
As for whether the Internet is good for fashion: "Good or bad, it's not up to me to judge the tastes like this. It's what people like, it's what people care for. So, it's a wave, it will fade away, maybe. Look, the Walkman now, it's like a historical piece from museums, and when the Walkman was new, everybody wanted a Walkman. Nobody, I think — children — knows what a Walkman is anymore, eh? So we are into the iPod, all this, today. It will, I think, become too popular ... they are always fading away for something else."