Karlie Kloss Interview 2012
Supermodel Karlie Kloss Is a Do-Gooding Teen Who Likes to Collect Little Charms
Supermodel Karlie Kloss might be busy conquering the world one fashion magazine cover at a time, but that didn't stop the jet-setting American beauty from chatting with us at the Summer of Doing celebrity volunteer event in New York City earlier this week. "I had breakfast in Paris, lunch in London, and dinner in New York," said Kloss. "So I'm a little jet-lagged today." While helping restore a mosaic wall at the Jacob H. Schiff playground, Karlie took time out to talk about her most memorable modeling moment(s), traveling with her family, and who she looks up to in the industry. "Someone I really look up to is Cindy Crawford," said Kloss. "She really represents the picture of health. It's all about nutrition and fitness and just living a healthy, balanced lifestyle." Read what else she had to say below: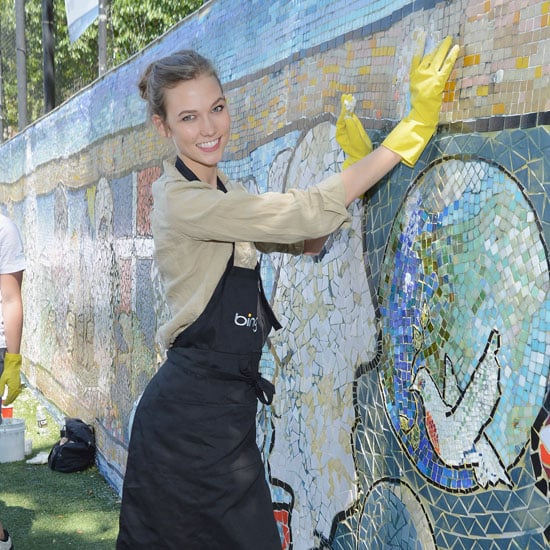 On shopping while traveling: I brought my sisters back a few souvenirs, but nothing for me. I never get anything for me. I have three sisters, so my suitcase is full with presents for everybody else!
On the most memorable thing she has gotten for herself: I like to pack light—I like to collect little charms everywhere I go, so something small to trigger the memory of all the special trips I get to take.

Read what Karlie has to say about her most memorable modeling moment, Summer essentials, and more.

On the most memorable moment in her career: There are so many incredible memories! I feel like I have lived ten lives in the last five years that I have been working. I have had a lot of incredible trips to Greece, Italy, Spain, and France. I've recently been to Paris with my older sister, and we had an amazing time. I try to make every trip special by bringing a family member with me.
On her favorite Summer essentials: I always throw a swimsuit in my bag, no matter where I'm going. I guess with my shorts and my sandals, you can kind of go anywhere!
On what she always has in her purse: My passport, because I never know where I'm going.
On what she would be doing if she weren't modeling: Hopefully, I would be one of these teens going into the community and being a part of this [project].