Kate Bosworth Wearing Preen | October 2012
Kate Bosworth Gives Us Spring Styling Fodder to Use Right Now
We inevitably fall into rules and predictable patterns with the arrival of Fall and Winter — dark colors, heavy fabrics. Some is seasonal necessity, but you can rework the dress code to allow for pretty pops of print and a crisp, clean palette. Kate Bosworth's latest is a lesson in working that angle to the fullest, stepping out for an appearance in Sydney in Preen's modern floral-print blouse and coordinating pencil skirt with a sexy sheer inset. Right down to her Casadei pumps, Kate worked the fresh, Spring-ready look, but we'll give you some tips on making the ensemble work for right now.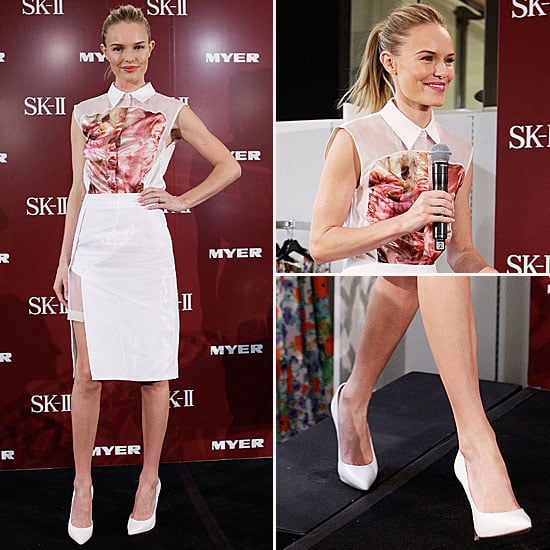 If you're lucky enough to live in a warmer climate all year long, there's really no need to tweak the combo. If you aren't, look to a cool, fitted blazer to top it off, while still keeping it sleek.
If the chill is really starting to set in, there are other ways to warm up the look. Add a (faux) fur-lined anorak to the mix and swap out your pumps for ankle boots.
You can get away with florals and whites all year long, but if the look seems to scream Spring, mix and match a floral blouse like Kate's with cozy Fall trousers or add a slouchy sweater to your crisp pencil skirt. The important thing to remember is that opposites do attract — outfits look infinitely more interesting when you play with textures, prints, and colors.