Kate Middleton in Navy Blazer at Olympics 2012
Kate Middleton Aces the Prepster Thing in Three Easy Styling Steps
Leave it to Kate Middleton to achieve that classic prepster look without having to go the popped-collar polo route. While she debuted a similar Smythe blazer ensemble yesterday, it's today's Olympic equestrian-bound attire that caught our eye. Why? Kate utilized three preppy styling staples — a tailored navy-blue blazer, a striped top, and canvas cork wedges — to perfection, thus proving that an easy combination can instantly strike that nautical-inspired note so essential to cultivating a preppy look.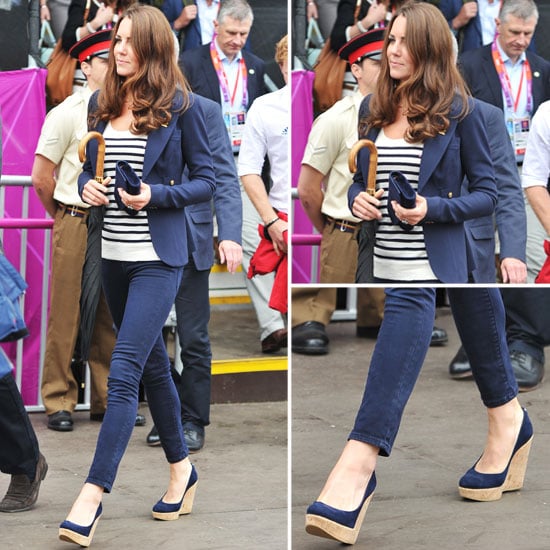 To put your own spin on the off-to-the-races-meets-sailing vibe, just employ ultrastructured top layers (like a tuxedo-style blazer) with more classically inclined pieces underneath (stripes being the most obvious choice).
Stick to a classic color scheme — neutral tones, navy blues, cherry reds, and of course, crisp whites.
Rather than opt for a boat shoe, a cork wedge or summery espadrille will round out the outfit nicely.
Ready to emulate Kate's Olympics-day-four style? We've culled our favorite blazer, striped tank top, and wedge combos to shop below.