Kate Moss at Kerastase Party in London 2013
Leave It to Kate Moss to Wear Fall 2013's Most Coveted Pieces First
Leave it to Kate Moss to further her résumé of impeccably styled looks with ones taken fresh off the Fall '13 Paris runways. But if anyone can do it, she can, and she'll wear them first. For us, spotting the British beauty in these just-debuted creations not only signals her loyalty to the designers behind the label, but also supplies us with a cool off-the-runway styling application. Case in point: Moss stepped out at the Kérastase party in London last night in a sexy lace-trimmed, plaid-printed minidress that came down the Louis Vuitton Fall '13 runway only a week ago. In fact, Moss also walked in the show, supporting her longtime friend Marc Jacobs, but modeled a long, sheer blue gown instead of the shorter slip dress she donned yesterday. In true Kate Moss tradition, she topped the mini off with a luxe furry coat and black pointy-toe pumps.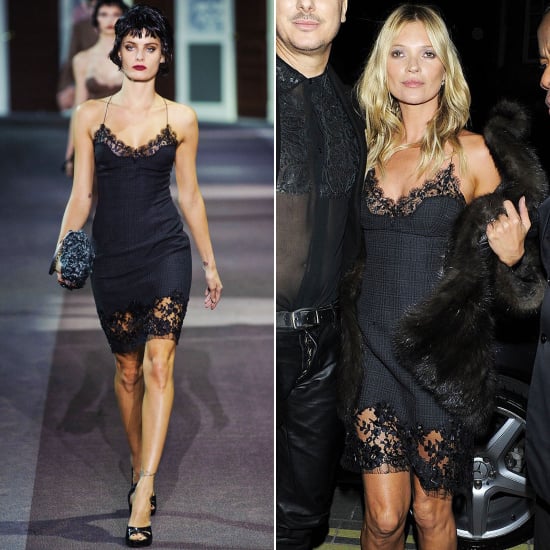 Her Louis Vuitton-clad appearance, pictured above, is actually the second time she's worn a Fall '13 number within days of it coming down a Paris catwalk. To see which Fall '13 look she wore — hint: it's a sparkly one — just keep reading.
At the CR Fashion Book party, Moss shined bright in a head-to-toe sheer-meets-crystal-dotted Saint Laurent bodysuit, being the first (once again) to rock the new collection, this time only a day after its official "premiere." Blame it on her standalone cool-girl status, but we think it also has something to do with her established friendship with house designer Hedi Slimane that has allowed her to have first dibs on wearing the line before anyone else. Moss styled her embellished getup with a slick black tuxedo blazer, a black clutch, and black high-heeled ankle boots. While the runway look is certainly a tough one to pull off for most, Moss made it work with simple, classic, and very tailored accents. With an emerging penchant for trailblazing looks before the rest, which Fall '13 collection do you think Kate Moss will wear next?