Kate Moss Vogue Covers
A Look Back at Kate Moss' Best Vogue Covers From 1993 to Now
We're excited to bring you the best fashion finds, shopping stories, and style news from one of our favorite sites, Fashionista. Today, they're giving us a look at Kate Moss's Vogue covers.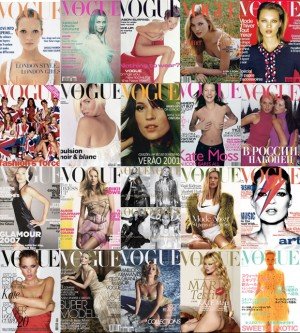 For 20 years Kate Moss has utterly fascinated the fashion industry—and we're no exception, of course. (When I did my stint as an intern here at Fashionista five years ago, more than a few of our office passwords revolved around Miss Moss.) Now, a new book out tomorrow aims to explain why we're still all totally obsessed with the supermodel.
According to its Amazon page, Christian Salmon's Kate Moss: The Making of an Icon explores Moss' proclivity for reinvention and her ability to stay relevant — cutting edge, even over the span of her two-decade career. It tells "the story of an icon, a muse, a legend, an enigma — and how our culture has created the collective Kate Moss myth."
RELATED: Karl Lagerfeld Says He's Sorry To Adele With Chanel Bags, Could She Be the Next Face of Chanel?
There's one magazine in particular that's been particularly important in perpetuating the "Kate Moss myth": Vogue. According to Stylelist, Moss has appeared on the cover of international issues of Vogue a whopping 300 times.
Click over to Fashionista to see them all.
More stories from Fashionista:
Crystal Renn Went Extremely Blonde
Hold Onto Your Knickers, Girls: Our Modern Guide to Dressing Like a Spice Girl
Kate Middleton's Creepily Accurate Madame Tussauds Wax Figures Feature Four of Her Most Memorable Outfits