Kim Kardashian True Reflection (Interview)
Kim K Chats New Perfume, Personal Style, and Go-To Pieces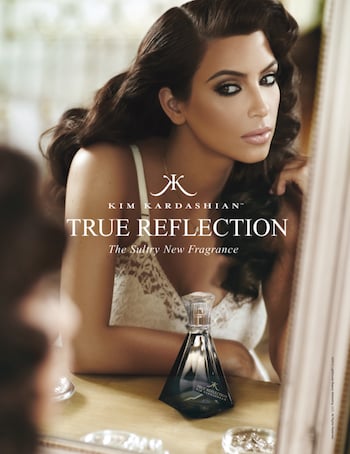 Kim Kardashian has created a new perfume, True Reflection, and she's unveiling it at The London West Hollywood this Thursday night. To purchase your $90 tickets for the event, go here. But before you go, find out what Kim had to say about the fragrance-making process, her personal style, and go-to pieces.
CelebStyle: Tell us a little bit about this event on Thursday.
Kim Kardashian: It's a going to be a fabulous event to celebrate my new fragrance, True Reflection, and in support of an amazing charity called Dress for Success Worldwide, whose mission is to provide women with professional clothing and the tools they need to succeed in the workplace. They are truly an amazing organization, and I'm so pleased to be a part of an event that will hopefully raise awareness and funds for a charity that helps disadvantaged young women succeed in life.
CS: What is your latest fragrance all about?
KK: True Reflection is all about femininity and sophisticated glamour. The fragrance blends Italian bergamot, plum, peach, night blooming gardenia, chocolate orchid, and lotus flower to give it an addictive sultry scent. I absolutely love it!
To hear more from Kim, including her fashion go-tos,
CS: What was the process of creating a fragrance like?
KK: The process of creating a fragrance is always really interesting and fun for me. I wanted True Reflection to have a bit of a twist compared to my previous scents. Gardenia is a constant in all my fragrances, but I wanted this one to be a little more rich and layered, to reflect the experiences I've been through and all the different dimensions of my personality.
CS: How would you describe your personal style?
KK: My personal style is always evolving. I love trying out new trends and just having fun with fashion.
CS: What are your go-to pieces in your closet that you always reach for?
I always go for a black blazer. It can look super effortless with a t-shirt and jeans or super cute over a dress.