Kim Kardashian in White Dresses
Will Kim Kardashian Only Wear White Until Her Wedding?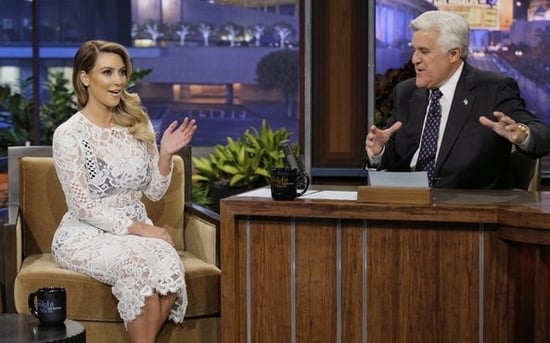 Kim Kardashian may have only gotten engaged last week, but she has wasted no time dressing the part of the bride. Just two days ago, she sat down with Jay Leno at The Tonight Show in a curve-hugging white lace dress — but traditional it was not. The sheer fabric put her sexy black underwear on display. This is just one of the three times in the past week — yes, it's only been a week! — that the star has donned white, which leaves us to wonder if she's already giving thought to what the dress on her big day will look like.
See her other sexy white looks — and vote on your favorite! — here.

Kim channeled sexy lace lingerie in a crop-top look by Dolce & Gabbana at her 33rd birthday bash in Las Vegas. She completed the look with a colorful clutch and a shimmering pair of gold sandals.

At a gala in Beverly Hills, which marked her first appearance since the engagement, Kim opted for a body-conscious white dress, which showed just a sliver of skin.
Photo courtesy of NBC