Lady Gaga Carries a White Graffitied Hermes Bag At Japan's Narita airport

Lady Gaga's Graffitied Hermes Bag!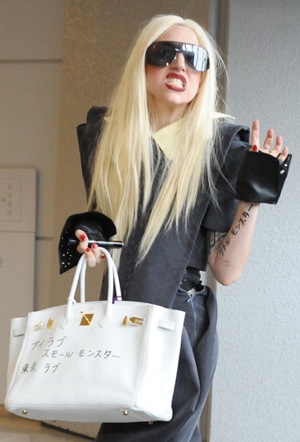 We're thrilled to present our favorite InStyle story here on Fab!
Lady Gaga's latest fashion statement was just that: an actual statement! At Japan's Narita airport—where she arrived for the Far East leg of her world tour—she flashed a special graffiti message to her Japanese fans on her Birkin bag. "I love little monster, Tokyo love" was written in Japanese Katakana script on both her handbag and forearm. The retail price of a Birkin bag starts at $5,000–proving just how far the pop star will go for her beloved little monsters.
— Enid Portuguez
For more fashion, beauty and style buzz you need to know, read What's Right Now! at InStyle.com.