Lady Gaga's New Album ARTPOP Is Filled With Fashion
Breaking Down the Fashion in Lady Gaga's Upcoming Album, ARTPOP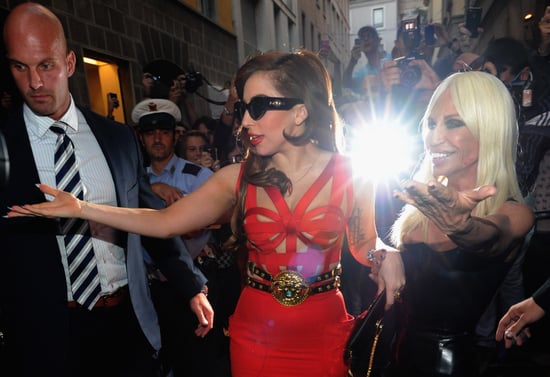 Source: Getty / Pier Marco Tacca
Where Lady Gaga goes, fashion follows. So it should come as no surprise that her new album, ARTPOP, and its first single, "Applause," have more than a few connections to the industry.
"Applause" marks Gaga's return to music — and to high-concept sartorial messaging — after a six-month absence from performing. The single will debut on Aug. 19, and the singer will walk the red carpet at the MTV Video Music Awards less than a week later. The full album is due out on Nov. 11, but we've already got a look at the designers, photographers, and fashion houses that have helped shape how Gaga will present this album, and herself, to the world.
More on Lady Gaga's new album when you click here.
The Photographers

Inez van Lamsweerde and Vinoodh Matadin, the fashion photographers who have captured Gaga for V Magazine on numerous occasions, also recently shot the music video for "Applause."
"I always say to her, 'Look at you. You are incredibly beautiful; accept it. Don't try to hide your face — just shine through,'" van Lamsweerde told WWD about how he hopes she'll present herself when promoting this album. "For her, it's a part of that not hiding behind wigs and glasses and all kinds of stuff."
The Cover

The white cloth surrounding Gaga on the cover for "Applause"? That's actually a coat designed by Gareth Pugh, who showed a number of white outerwear pieces in his Fall 2013 collection.
The Fashion

Balenciaga has created custom pieces for Gaga, but she's still wearing pieces from Versace and Armani — brands she's worked with for tour costumes and red carpets in the past. Saint Laurent and Italian brand Mila Schön have also worked with Gaga for ARTPOP — and they're all much simpler than some of the things she's worn in the past.
"I think that this time it is about letting some of it go and the focus being on the music, because now she's comfortable being naked and being who she is," her stylist and fashion director, Brandon Maxwell, said in reference to the artist's recent nude photographs in V Magazine. "The world has seen everything."