Lady Gaga Versace Campaign
5 Reasons Lady Gaga Can Front a Versace Campaign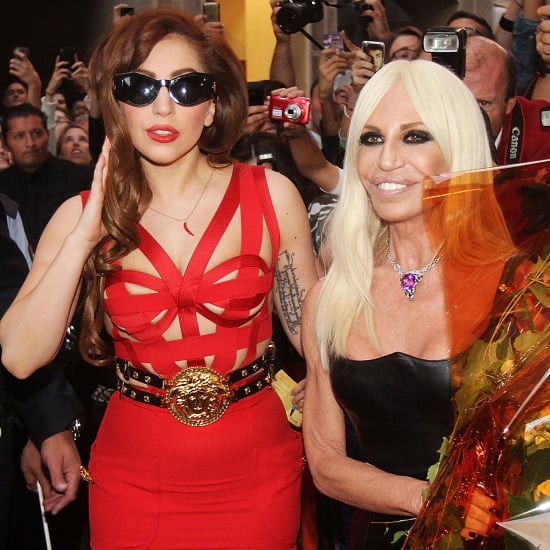 It appears those rumors about Lady Gaga appearing in Versace's next campaign were true. On Wednesday, WWD reported that Gaga will star in the fashion house's Spring 2014 campaign, which is believed to have been shot by Mert Alas and Marcus Piggott.
And while no one at Versace has commented on or confirmed the news, it's safe to say Gaga can handle the job. Versace has been outfitting the singer for everything from music videos to full tours for over a year now, so this campaign will undoubtedly join the pantheon of Versace's Versace-est moments. Herein, five times Gaga proved she can handle all the colorful prints, safety pins, and Medusa heads the house has to offer.
Who's Afraid of a Safety Pin?
Gaga wore a custom Versace jacket for one of her recent V Magazine covers. All those safety pins might frighten a lesser woman, but Gaga's clearly not going to let potential pinpricks get in the way of her art.
What Did Lady Gaga Wear on Lady Gaga Day? Versace
When the city of Taichung, Taiwan, named July 3, 2011, Lady Gaga Day, the artist chose a vintage Versace ensemble — bag included — for the occasion.
That Day She Spent With Donatella Last Year
Gaga went through two costume changes on a day she spent with Donatella in October 2012. First she walked through the streets of Milan in a red dress . . .
. . . and then changed into a white dress (and a blond wig) to wave at fans from the balcony of Palazzo Versace.
She Opened the Versace Vault For Her Music Video
The music video for "The Edge of Glory," one of the biggest from her last album, Born This Way, was the first time Versace opened its archives for a music video.
She Also Dedicated an Entire Song to Donatella
Her new album, Artpop, has a song that's named after the legendary designer. The lyrics go, "What do you wanna wear this Spring? What do you think is the new thing? What do you wanna wear this season? Donatella."