Lauren Conrad's Bag Must-Haves For Fall 2012
Accessory Report: 5 Must-Have Bags For Fall
We are thrilled to share this story from Lauren Conrad! The TV personality, writer, designer, and style maven has started LaurenConrad.com, a social networking site that features daily posts by Lauren on all of our favorite topics — fashion, beauty, food, party planning — and Lauren will be sharing her latest fashion finds with Fab every month. This week, she's giving us an accessory report on her must-have bags for Fall.
A purse is like a woman's personal sidekick. It's there to give her every necessity at any given moment. And it sticks by her side no matter what. Therefore, it is of utmost importance that said "sidekick" is just as fashionable and practical as the woman who carries it. There are few shopping moments as exciting as finding that perfect bag. (Discovering a gorgeous pair of shoes is a close second.) While the true purpose of a handbag is to tote around lipstick, mints, money, and all those other necessities, it goes without saying that curating a collection of pretty purses is key.
Related: Style Guide: Finding the Perfect Coat
When LaurenConrad.com member Lui requested a blog post about which bags to buy for fall, I couldn't wait to write about one of my all-time favorite accessories. If you ask me, there are 5 essential categories of carryalls that every girl ought to have in her closet. Check them out below: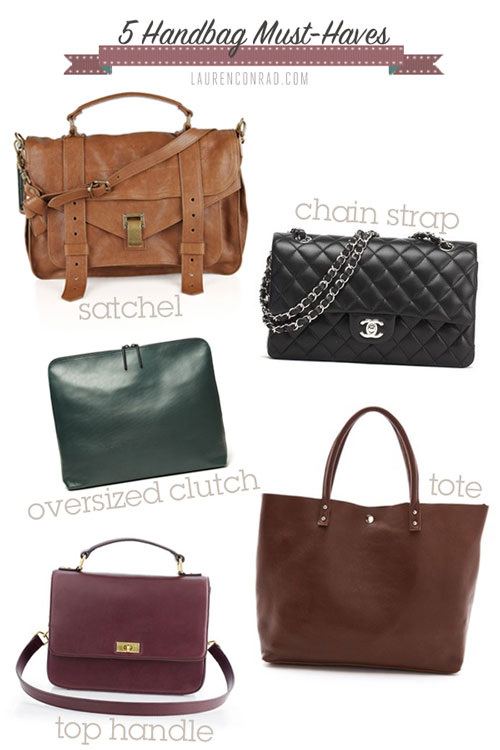 Keep reading for all of Lauren's bag must-haves
Oversized clutch. It's no secret that I'm a huge fan of oversized clutches. This compact style is a great way to put a fresh spin on your usual daytime bag, but it also works for dressing up an evening look. Go for a gorgeous autumn color like hunter green or deep purple to spice up this accessory.
Top handle bag. Ladylike handbags with top handles are one of fall's hottest trends. They have a sense of structure and importance that I love in a purse. I'm also dying over the color oxblood lately, and it's huge this season.
Chain strap shoulder bag. A classic black chain strap bag is great because you can use it when you're sporting a dressy daytime look or when you're out at night. It's also a great contrast piece for a more relaxed look as well.
Satchel. Satchels are a common everyday bag. They can fit everything you need for the workweek and running errands on the weekend. Since satchels are not overly huge but still big enough to fit more than the bare essentials, this style is often my go-to.
Tote. Tote bags are also crucial. You can use it to carry your notebooks to class, haul your laptop to work, or store your travel essentials when vacation-bound. If you're going to tow your life around in a bag, it might as well be chic, right?
As long as you have your own variation of these 5 must-have bags, you will be set to dress for any occasion that comes your way. Now I'm not saying that everyone needs to buy an expensive purse—I want you guys to think about these suggestions in terms of shapes and sizes. Once you have these 5 types you will see that you're covered for nearly any occasion!
What is your go-to bag this fall?
XO Lauren
More from LaurenConrad.com:
Tuesday Ten: Thanksgiving Recipes Gone Healthy!
Style File: Who Are Your Fashion Icons?
Friday Favorites
Currently Craving: Leather Leggings