Lauren Conrad Style Interview
Lauren Conrad Shares Her Most Memorable (and Almost Disastrous) Fashion Moment of All Time
When it comes to easy breezy SoCal fashion, Lauren Conrad is our girl. In addition to showing us her effortless style at various red-carpet events, we're also fans of her feminine-meets-cool Paper Crown collection. We know it takes certain skill and finesse to perfect such a look, so we went to the source herself at Paper Crown's Spring sample sale in LA. Here, Lauren chatted with us about how her personal style translates into her Paper Crown collection, her ultimate Summer must haves, and even her most memorable (and somewhat disastrous) fashion moment of all time: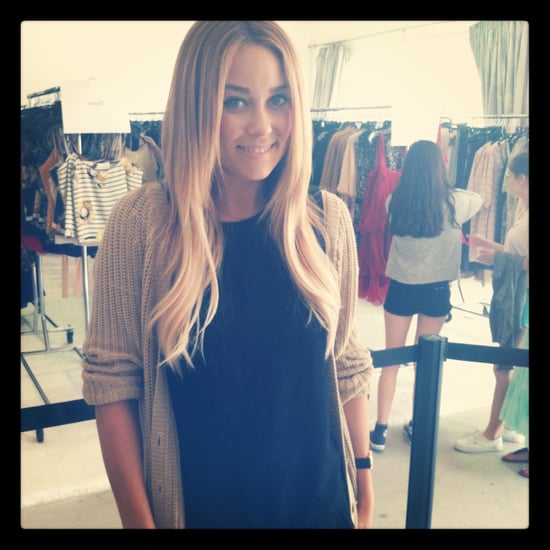 FabSugar: What are three words that describe Paper Crown and how does that relate to your own personal style?
Lauren Conrad: Classic, romantic and effortless. Between the draped silhouettes and the fabric selection, I really try to design pieces that look nice and put together, but are still comfortable to wear. If you are going to wear something all day, you want to feel comfortable and pretty in it. My personal style is kind of the same. I like balancing out different qualities, whether it's a really feminine top paired with leather pants or a button-down in a more masculine, traditional shape with a full skirt.
FS: What is your most memorable fashion purchase of all time?
LC: A few years ago, we had a premiere or finale party in Malibu beach for The Hills. I was in Vegas and I bought this Cavalli dress [for the event] that I absolutely loved and I accidentally left it in a restaurant at the airport. It was this beautiful, full-length cream-colored dress with a bright orange flower on the side. I was so upset; I called the airport and I told them it was my wedding dress so they would look for it. They found it but because it came right before the premiere, I didn't have time to have it altered. It was such a bummer because it was a beautiful dress that ended up not fitting quite right. I remember I was so excited when I first bought it.
Lauren shares her Summer fashion essentials and packing tips.
FS: What are your Summer essentials?
LC: For me, it's mostly dresses because they are so easy to wear. I like sundresses or maxis, and I also bought a few rompers recently.
What are your traveling/packing tips?
LC: I am a horrible packer. I always pack the night before so I always forget things, so now, I always have one bag that I keep that's packed with essentials. It's filled with everything, from safety pins, to Tide sticks, and band-aids. I just have it ready for me so I can just throw it in my bag at any time. They are also travel sized so I can take them even if I'm using a carry-on.