Lauren Conrad Styling Tips Spring 2013
Paper Crown: My Spring Style Staples
We are thrilled to share this story from Lauren Conrad! The TV personality, writer, designer, and style maven has started LaurenConrad.com, a social networking site that features daily posts by Lauren on all our favorite topics — fashion, beauty, food, party planning — and Lauren will be sharing her latest fashion finds with POPSUGAR Fashion every month. This week, she's giving us a look at Paper Crown essentials and how to style them.
In honor of the recent ecommerce launch of Paper Crown, I thought it would be fun to spotlight a few of my favorite pieces from the Spring 2013 collection. I'm going to tell you what inspired me to design each piece and how I like to wear these items myself . . .
Beam Blouse
Design Inspiration: I am always on the search for a top that is not only a perfect everyday tee, but one that can be dressed up too. This was my solution! The Beam Blouse is a comfortable fit and can be worn anywhere. And because it is silk, it makes any look feel more pulled together compared to the average white tee.
Related: Style Ideas to Try Now
Style Tip: The possibilities are endless! Dress it up by tucking it into a pencil skirt paired with a tailored blazer or throw it over a pair of jeans for a more casual take.
Wear It With: I personally love this top tucked into a flowy midi-length skirt, like the Netting Skirt, for a more ladylike look. Or pair it with the Serena Legging for a more edgy vibe.
Keep reading for the rest of Lauren's style staples and tips
Netting Skirt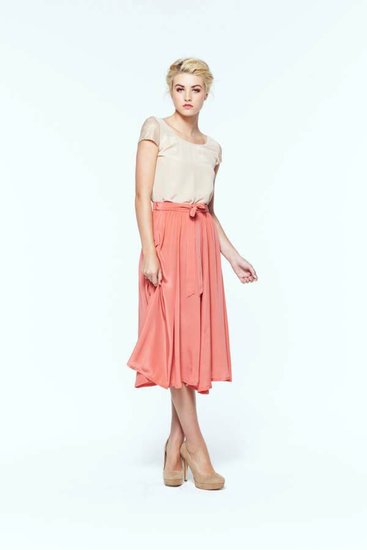 Design Inspiration: I have fallen in love with midi-length skirts for spring. Nothing says springtime like a fun, twirly skirt!
Style Tip: I love self-tie skirts! Personally, I like to make a big bow at the center of my waist and wear it with a flirty top or even a basic tee.
Wear It With: The Beam Blouse looks great with this skirt, or even a plain tank.
Bow Dress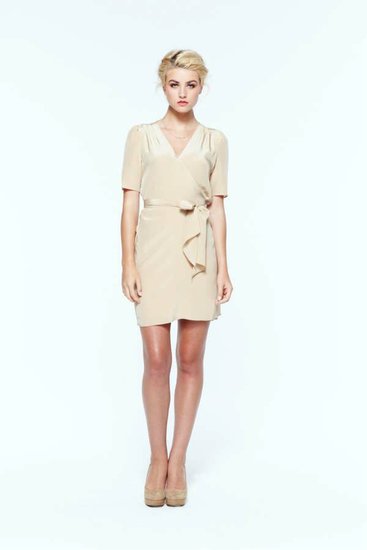 Design Inspiration: I wanted to design a modern take on the classic wrap dress.
Style Tip: I think this is the perfect piece to wear almost anywhere. You can really dress it up and wear it for date night or go for a more casual look by pairing it with your favorite pair of flats.
Which piece from the Spring 2013 collection do you have your eye on? You can see the entire collection here.
XO Lauren
More stories from LaurenConrad.com:
Wedding Bells: The Duties
Ladylike Laws: Blind Date Escape Etiquette
Savvy Shopper: How to Measure Yourself Properly For Successful Online Shopping
Explore: How to Shop a Flea Market