Lauren Conrad Wears Ho Ho Ho Sweater 2012
Dare We Say It, Lauren Conrad's "Ugly" Sweater Look Is Just Awesome
Let's face it — no one is safe from the (tempting) perils of a holiday-themed "ugly" sweater. Not even Lauren Conrad. But that's the beauty of these endearing novelty toppers: they're actually kind of awesome and totally wearable outside of the hipster party scene, too. Like Conrad, we think it's a quirkier way to wear our seasonal festivity on our sleeves without the stigma of tackiness attached. Sure, the blond beauty wore a white Lot 78 sweater embroidered with the words "Ho! Ho! Ho!" front and center, and yes, the font is reminiscent of How the Grinch Stole Christmas, but thanks to her slick leather pants, classic pumps, and coveted Balenciaga bag, it's a look that we want to copy stat. What made this outfit really work was the fact that Conrad limited the over-the-top factor to just one item of clothing, allowing the other pieces to offset it with a cool-girl sensibility. By letting this statement sweater stand its ground against a more fitted silhouette on bottom, it felt polished more than anything else. A real "ugly" sweater success story, if you ask us. To get into the spirit of all things holiday dressing, we're offering up our top three ways to style your own festive layers below. Then, click here for some serious shopping options.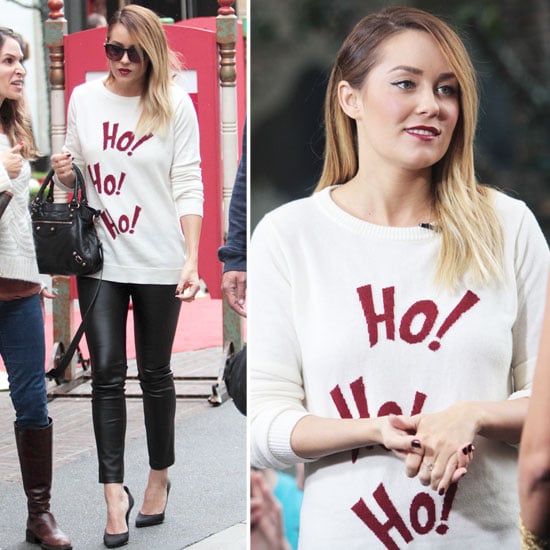 Follow suit on Conrad's cool-girl outfit with your own pair of leather pants. If you're not into the leather look but you do want to keep your legs covered up, try a waxed or coated jean instead. For the girl who can't part with her heels, go for an ankle-strap pump (as long as the pant leg hits a little above the ankle), and for the girl who wants to keep it low-key, an ankle boot will work just as well.
We love the idea of pairing something as whimsical as an "ugly" sweater with your sexiest formfitting pencil skirt. Chances are, your sweater is a bit more relaxed on top, so it wouldn't hurt to add a little shape on bottom. It doesn't have to be all body-con and sultry — especially if you're trying to make this festive sweater a serious styling option — so add a lower-heeled pointy-toe pump to finish things off. It will add an instant edge of sophistication, which we're pretty sure is just what your "ugly" sweater needs. Note: if your topper isn't too embellished, try throwing on a bit of sparkle via a statement collar necklace. Hey, it's the holidays, have some fun!
For the girl who doesn't want her festiveness to start and stop with her sweater, pair the top with a sequined miniskirt. You'll be playing with proportions in a way that is both flattering and oh-so leggy. Then, add some dark opaque tights and lace-up oxfords to keep it fresh and unexpectedly easy.