Lindsay Ellingson Victoria's Secret Summer Interview
Lindsay Ellingson on the Moment She Truly Earned Her Victoria's Secret Angel Wings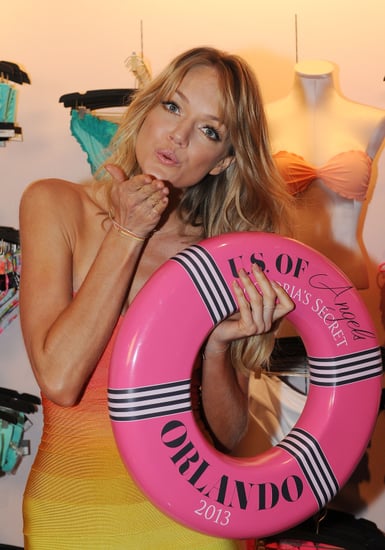 All good things must come to an end, and such is the case with the Victoria's Secret U.S. of Angels Summer Swim Tour.
For the third and final stop — Candice Swanepoel kicked things off in Seattle and we followed Erin Heatherton to Milwaukee — on the tour, Lindsay Ellingson greeted fans in Orlando!
After she made an obligatory pit stop at Disney World and played a few holes of golf (when in Florida!), we chatted up the supermodel about her trip, her Victoria's Secret beginnings, and one Blake Lively.
POPSUGAR: What did you like most about Orlando?
Lindsay Ellingson: This is my first time here! I went straight from the airport to Epcot Center, and I loved going "around the world" to see all the different countries. Also, the fans have been so nice and welcoming!
PS: And if you could travel anywhere, where would you go — and what would you bring with you?
LE: I would go to Hawaii because I've never been there! I'd bring a surfboard, a Victoria's Secret bikini, and my dog Carly.
PS: You've been walking the runways since the Spring 2005 shows, and you've been an Angel for five years already. When do you think you first earned your wings?
LE: When I was doing the Victoria's Secret Gorgeous Push-up Bra campaign. It was my first solo campaign, and it really hit me, like I had finally made it. It was such an honor and surreal at the same time.
PS: You've done so many shoots, but what's the most memorable casting call you've ever been on?
LE: I did one for the Dior Couture show, and I had to dance in ballet pointe shoes! I had never done it before, and I trained to dance pointe down the runway.
PS: Impressive! Aside from ballet slippers, what's your most prized fashion purchase yet?
LE: My favorite of all time would probably be my thigh-high Margiela leather boots.
PS: And your go-to style icon?
LE: I think Blake Lively has great style.
PS: You clearly have found great success — so we don't want you to quit anytime soon. But, we're curious: what would you do if you weren't modeling?
LE: I was studying biology in college, so if I wasn't a model, I'd like to be doing cancer research.