London Fashion Week News February 22, 2012
LFW Dispatch: Highlights From the London Runways
Our FabSugar UK editor Jamie hit up the top shows at London Fashion Week, getting backstage access and sending us her firsthand account from the runways. Here is a roundup of her favorite highlights from the shows: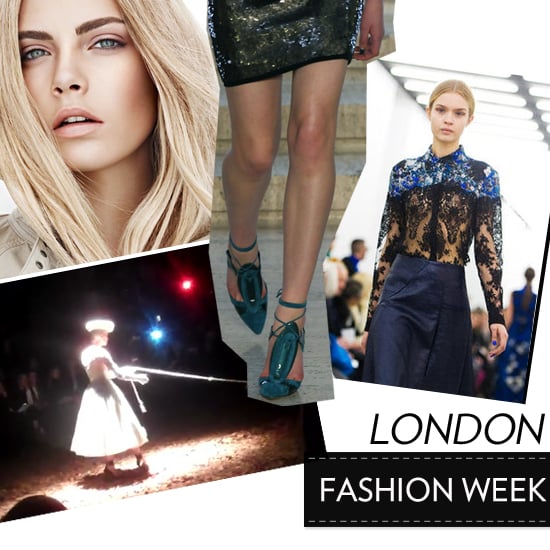 Antonio Berardi: The gorgeous shoes were by Manolo Blahnik, but the models kept slipping on the marble floor! I sat next to the fashion editor for Harvey Nichols, and we couldn't stop staring in fear at the heels! Read all about my experience at the show.
Erdem: I almost bumped into Anna Wintour because I was bent over tying my shoe — ha! The show was beautiful, but listen to the description I got: "Eccentric collectors of the '50s and '60s provide the inspiration for Erdem's latest collection — the bold and incomparable style of fearless dressers such as arts patron Betty Freeman and Marcia Weisman who, along with her husband Fred, was captured by David Hockney in California Collectors." It was all about conservative pieces with a kinky twist.
Burberry: Poppy Delevigne was in the front row smiling proudly and taking pictures of her little sister Cara, who not only walked the runway but also stars in the current Burberry campaign. Talk about putting on a show: Burberry used a rain machine to create rain outside the clear tent, while inside models walked out using umbrellas while confetti shot out from the ceiling. I took some quick notes for you to read.
McQ: Salma Hayek sat in the front row with her husband and Anna Wintour. The space was super dark and dramatic, and the floor was covered in wood chips. For the finale, the model wore all white, and she walked down the runway under falling leaves. Halfway through she stopped, dug into a pile of wood chips, and pulled out a rope, which led her into this makeshift forest. Pretty dramatic, no?