>> Elizabeth Taylor, she of the violet eyes, plunging necklines, and ostentatious jewelry, passed away [1] this morning at 79. She first broke onto the scene at 12, in the 1944 film National Velvet; she became the highest-paid actress of the time when she accepted $1 million in 1960 to play Cleopatra; and her White Diamonds perfume, launched in 1991, remains a bestseller. But aside from all that, she was a Hollywood icon — the "beauty incarnate" to Marilyn Monroe's sex goddess, Grace Kelly's ice queen, and Audrey Hepburn's eternal gamine, as the [2]New York Times [3] put it [4].
Although she wasn't known as a fashion icon, she did have her moments [5]: the strapless white gown covered in daisies Edith Head designed for Taylor in 1951's A Place in the Sun inspired the most popular prom dress that year, and the white dress she wore in Cat on a Hot Tin Roof was licensed by its costume designer, Helen Rose, and sold in the thousands.
Valentino, who dressed Taylor in 1991 for her eighth wedding, said [6]: "Liz is a very faithful friend. She can be the most extraordinarily beautiful woman. But what makes her a big star in my eyes is that she is like everyone else. She puts on weight, she loses it. She has depression, faces health problems just like everyone. It's why she is a lasting personality." A look back at some of Taylor's iconic moments, in the gallery.
Butterfield 8, in 1960
On set in 1956
Academy Awards, 1993.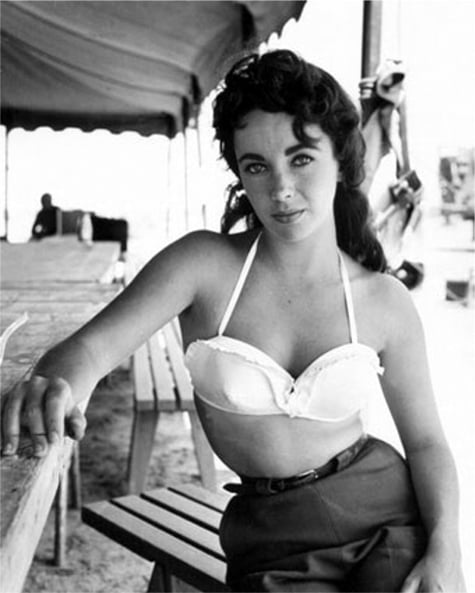 On the set of Giant, 1956
New York Theatre, 1976
Cleopatra with Richard Burton.
CFDA Awards, 1998
Filming Suddenly, Last Summer in 1959.
The Taming of the Shrew, 1967.
At the Plaza Hotel in New York City, 1969
Striking a pinup pose in 1952.
1974
Press photo, 1956
Filming Suddenly, Last Summer in 1959.
On the set of Giant
As Cleopatra
Amfar Annual Cinema Against AIDS event, 1996
On set
Academy Awards rehearsals, 1974
1982
On the set of Dr. Faustus with Richard Burton in 1967
Doctor Faustus New York City Premiere, 1968
Filming Cleopatra in 1963
Lands End Benefit, 1969
JFK Airport, 1973
On the Queen Elizabeth with Richard Burton, 1968.
1976
Circa 1954