Louis Vuitton Fall 2013 Video by James Lima and Katie Grand
Louis Vuitton's Fall 2013 Collection Already Has a Short Film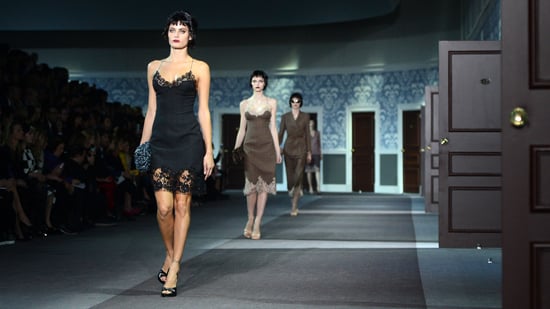 What were the models in Louis Vuitton's Fall 2013 show doing before the runway spectacle got started? Some of them were being filmed by James Lima for a short film that casts them as sultry women of the evening.
Find out more about the film — and see it — when you click here.
Lima worked with Love Magazine's Katie Grand — who styled the show — to create the three-and-a-half-minute clip, which stars Cara Delevingne, Edie Campbell, Lily McMenamy, Saskia de Brauw, Magdalena Frackowiak, and Isabeli Fontana. In it, the models pose languidly on street corners and lean into the windows of mysterious cars, all while wearing the slinky slips and underwear from the collection — and on occasion, nothing at all.
"I knew the character was his kind of woman; she was French and a lady that enjoys the night time," Grand said of working with Lima, who filmed the video "at the same time as we worked inside the studio on the show fittings; he was shooting on the streets around Pont Neuf."
A look at the racy film below.