Love Brigade Autumn Winter 2008 Look Book in Brooklyn at Brooklyn Royalty
Brooklyn's Love Brigade Shoots A/W 08: Interview and Photos
This weekend, we caught up with Love Brigade for their A/W 08 look book shoot. In an apartment just blocks away from the Love Brigade Co Op, and resided in by the designer of Brooklyn Royalty, Bob Bland (also a menswear designer for Triple Five Soul), we witnessed the chaos of a photo shoot with four designers, ten models, a photographer, journalists (us!), friends, and one totally crazy neighbor. Our interview with Love Brigade and photos of their shoot, after the jump.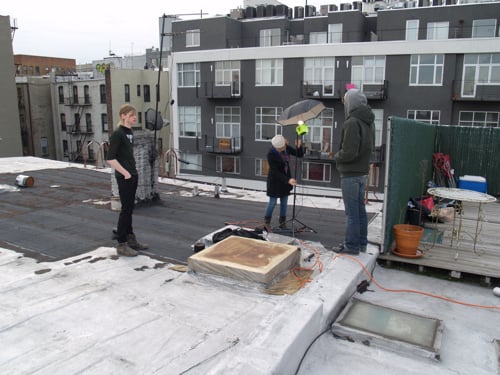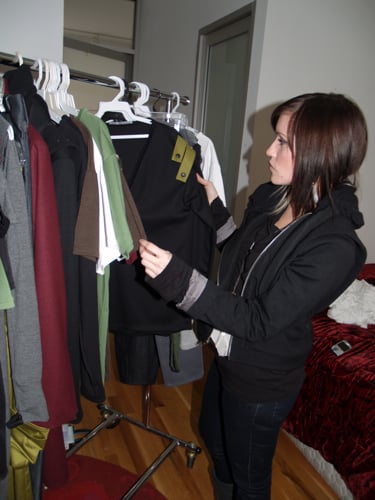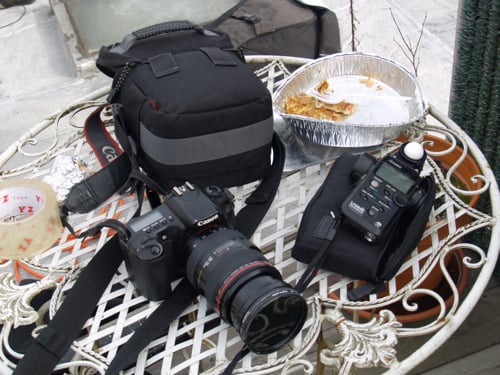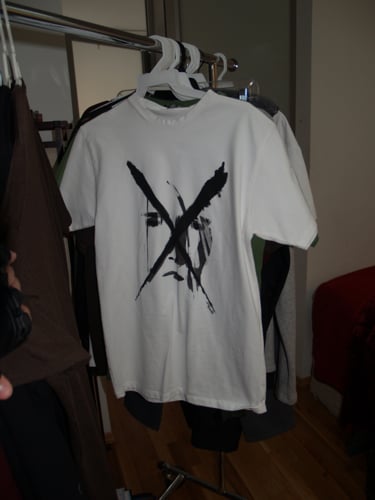 Images shot by Alex Norden for Coutorture
Love Brigade, founded in 2005, is a collective of designers (with Alyssa Key as CEO and Allison Press as fashion director) who banded together to use musical inspiration as the basis for their designs. Though their manifesto pivots on the concept of the collective, their aesthetic is far from earthy-crunchy. Modern, a-symmetrical cuts, eerie silk screens, and streetwear sensibilities come together to form a line that is reminiscent of the film The Warriors, in that you get the feeling it's the New York apocalypse and everyone's decided to go out dancing on their last night.


Can you tell us a little bit about the Love Brigade design process?
You have four designers and a special music-embedded premise with which to draw from, I would imagine the evolution of a collection is quite unique.
We start out with two things: intensive research and straight up gut feelings. Love Brigade has two parts to our formula we use to design, one part trend and one part music inspiration. Typically, we all lean toward feeling the same trend ideas, as we are all very close and see the same things happening in the world. The music inspiration then follows, and we bounce around ideas until we all feel inspired. It can take sometimes up to three weeks to determine the trend, but has happened in as little as a quick random conversation over a drink. Once we've agreed on the theme (trend+music inspiration), we start the whole process of sketching and sifting. That, in itself, is another magical event. We sketch, then we sift. We sketch, then sift. Again, and again. Then in the end, when we cast our eyes on the finished collection, it is clear that it is not one of us who has designed a particular piece; but rather everything has been shaped and touched by all of us and that is what makes us a true collective.


Tell us a little bit about A/W 08 (the look book shoot we captured). How is this collection an exciting step forward for your team?
Fall 08, "Love, Kurt", is a hybrid collection of modern utilitarian (trend) meets the artwork of Kurt Cobain (music inspiration). Consisting of watercolor graphics, uniquely shaped thumb openings fitted to the curve of the palm, modern cardigan shapes, and subtle physical characteristics of the music legend himself, it is evident to us that this is our most exciting collection yet. We feel very strongly that this is also our most prized collection yet; having recently found our own perfect balance between keeping our integrity as designers and creating a line highly sellable to our target. We have achieved our goal of that perfect balance, and mixed with just being chosen among only 12 designers showcased at GIDC's new showroom in midtown, our stars have officially aligned.


So, are you all bffs? Does everyone go out for drinks, meet each other's mums, cry on each other's shoulders? Or, do you have more distinct personal lives?
Haha, that's a great question. Yes to the bffs, yes to the going out and dancing (it's actually a requirement for our entire company to attend certain events and to "dance off"), yes we've all met each others' immediate families, and we do often rely on each other for support. "Magnetic souls", we feel we were always destined to cross paths and grow this label together. Jamie and Alyssa knew each other first, having met through a friend, then two years later moved to NYC to start the company. Allison and Alyssa somehow missed each other while both living in their hometown for over 20 years at the same time, then again missed each other while both living in London, and finally linked up in NYC after a phone call from their fathers suggesting (more demanding) to meet. When they did, and Allison proved her design skills and outlook on life to be exactly what Love Brigade called for, they both knew something great was on the horizon. Six months later, after bringing Allison on board, Alyssa and Allison discovered their fathers had actually started a recording studio together in the 80's, where Alyssa lived for a little bit at age 5, and Allison and Alyssa possibly even met at some point! Fast forward another six months, Tinypants, also coincidentally from Alyssa and Allison's hometown but also not associated while there, sat at a local Williamsburg, BK bar and started a conversation with Alyssa and BAM! A few months later he, too, joins the company after exemplifying ultimate design ability and a kindred taste in fashion. And there we have it, Love Brigade's senior designers: friends, lovers, and soul mates.


What would be the pinnacle of success for Love Brigade?
We're living it. We're growing the way we want to, and will continue making strides with every collection to ensure that it stays that way.