Lucy Hale Personal Style (Interview)
Pretty Little Liars' Lucy Hale Shares Her Fashion Motto and Favorite Colors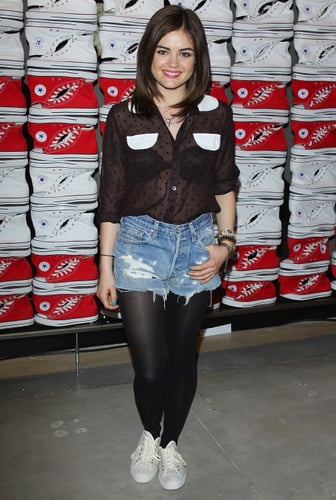 Last night, Converse opened its first West Coast store in Santa Monica, and celeb fans like Glee's Mark Salling and Pretty Little Liars actress Lucy Hale showed up to celebrate. "I've worn them [Converse] for as long as I can remember," Lucy told us. "On the show, Aria, my character, wears a pair of Converse all the time. I've written all over them and I color all over them."
Aria is known for her edgy, bohemian style, and it turns out, Lucy herself can be quite edgy, as seen by the sheer blouse and denim cutoffs she wore to the party. Find out what Lucy had to say about her own personal style and favorite colors of the moment.
CelebStyle: How would you describe your personal style?
Lucy Hale: It's sort of all over the place. It depends on my mood. Like today I'm more casual, edgier. It's a work in progress. I just like clothes in general. My motto is, if it's cute I'll buy it. It doesn't necessarily have to be my style. I'll try anything.
CS: Is there anything you refuse to wear?
LH: No. I think that's what's cool about my style. I will try anything once. It may work, it may not.
CS: What color combo are you into right now?
LH: I'm into neons. Anything bright, which is weird because I don't usually wear color.