MADE For Macy's Impulse
Shop the MADE For Macy's Impulse Collection
Lucky magazine is one of our favorite sources for great shopping tips. We're thrilled to share this fabulous story from our friends at Lucky!
MADE is sort of like the CFDA. The company sponsors fashion designers and helps produce runway shows — but instead of championing household names who show at Lincoln Center, it works mostly with up-and-coming labels at Milk Studios, the Fashion Week venue for smaller productions. It's the downtown answer to the CFDA, in a sense, and not just because Milk is literally downtown. MADE tends to work with more avant-garde brands. It's more subversive.
Now, though, the MADE team have become designers — not just behind-the-scenes characters — thanks to their inaugural collection for Macy's Impulse. It seems like the fashion industry insiders basically created what they'd want to wear with bedhead and messy eyeliner to the latest underground bar, and it's predictably cool: leather skirts, bomber jackets, track pants. The 24 pieces have the sort of swagger we'd expect from the Alexander-Wang-wearing employees we see around Milk throughout Fashion Week — at a fraction of designer prices.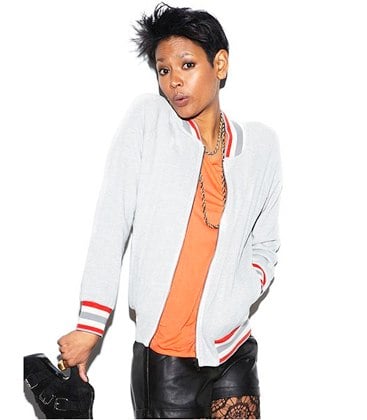 Click over to Lucky to see the full story and shop the collection.
For more fashion and style from Lucky, here are more Lucky stories.
This Week I Want to Look Like: Lindsay Weir
Dita Von Teese Talks Corset Comfort, Wardrobe Malfunctions and the Shoe Style She'll Never Wear