Made Fashion Week Expanding in Paris
How Made Is Helping the Bright Young Things in Paris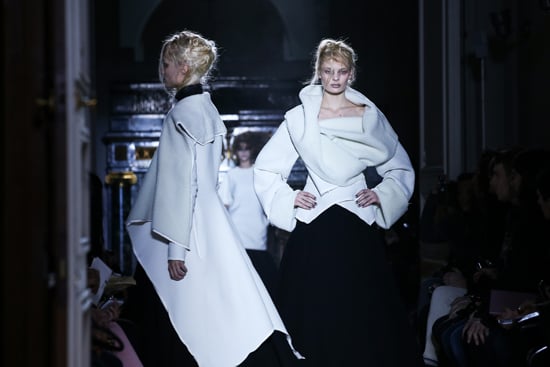 Photo: Looks from Gareth Pugh's Fall 2013 show
New York has the CFDA Fashion Incubator, and London has Fashion East. But where do the up-and-coming designers of Paris go for assistance in getting noticed and staging shows? Increasingly, the answer is Made.
The program, which has been helping emerging designers by subsidizing the costs of their Fashion Week shows in New York since 2009, started staging shows in Paris during the Fall 2013 shows. Its three founders, Jenne Lombardo, Mazdack Rassi, and Keith Baptista, asked designers Gareth Pugh and Anthony Vaccarello to show at Hotel Salomon de Rothschild and then got 10 younger designers to show their collections there too. Yang Li, a 25-year-old designer from Beijing, made his Paris debut there.
"There's no room in Paris for these young designers, and you can't get around the city to save your life," Lombardo said in an interview with Style.com. And although she also admitted that "it's taken a few years for us to get the respect" of the Paris establishment, they're hoping to continue to support the bright young things in the City of Light.
"We as partners in the program made a substantial investment in Paris," Baptista said. "I think that everybody wishes us success; it's a question of whether they're willing to invest their own time and energy to help us succeed, and that's where we have to kind of make a breakthrough."