Madewell Head Designer Kin Ying Lee
As Madewell's Epic Road Trip Begins, Creative Director Shares Her Wardrobe Must Haves
Madewell launched a massive road trip yesterday, using a vintage Airstream as a kind of nomadic pop-up shop to bring its awesome (we can personally vouch for this) denim to cities and college campuses from Boston to Seattle. We stopped by the Airstream yesterday morning to share coffee, donuts, and Spring shopping tips with Kin Ying Lee, the ever hospitable and eternally cool creative director of Madewell who, by the way, was wearing a pair of floral-print corduroys from the forthcoming holiday collection. That means printed pants are not going away, yay! To get Kin's rundown on Spring basics, read below, and if you want to see this seriously cool refurbished Airstream (boasting dressing rooms, a denim bar, racks of clothes, and iPad docks so you can order whatever you want from the Madewell site), check out its special map for this road trip paved in denim.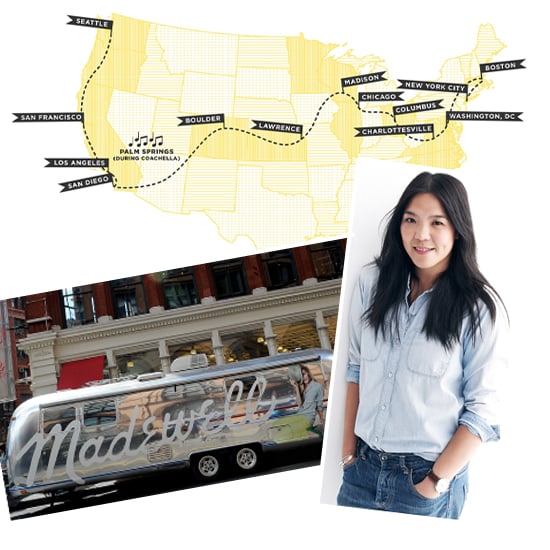 Creative Director for Madewell Kin Ying Lee's Spring shopping essentials:
A chambray shirt: "This is key. I wear one ALL the time. It's great because you can layer with it, and wear it open. I wear it as a jacket as well."
Skinny ankle: "These look amazing with heels, sandals, short boots. It's a great denim jean for Spring because it's got a shorter inseam so it hits right at your ankle. You can show off those manicured feet. It's really sexy."
The boy jean: "I think in Spring and Summer you want something that's not so tight. A boy jean gives you that little slouch, and that casual, more effortless look. This and the skinny ankle are my two go-to jeans."
The crisp jacket: "More for layering, I like that it has a little structure, a little more tailored."
A burst of color: "Even if it's just a great t-shirt or a silk shirt, it gives you a little splash of color."
Shift dress: "It's straighter, that fit is great and friendly, because not everyone can wear a waisted dress."