Malin Akerman's Style (Interview and Pictures)
Malin Akerman Spills Her Summer and Fall Go-To Pieces — Shop them Now!
Malin Akerman was among the stylish stars that feted Vena Cava's new Fall collection at Chateau Marmont hosted by GenArt last night. For the occasion (far left), she wore the label's paisley-print silk pants with a black American Apparel crop top, Vince Camuto clutch ($168), and these VC Signature wedges ($225). About her bottoms, the actress told us: "Look at these pants, they're kind of amazing." When asked to describe her personal style, Malin said, "It's definitely a little bit more laid-back, rock 'n' roll, something with a little bit of an edge usually."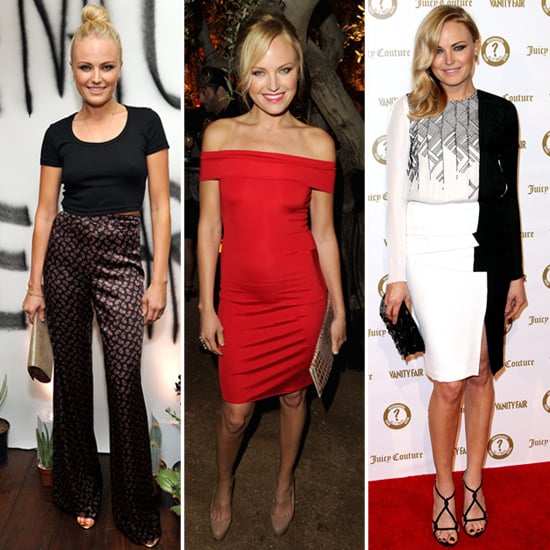 With Summer in our midst, we wondered what Malin's favorite warm-weather pieces are. "A sarong is always great. I just had an amazing vacation in Italy so that was a super essential," she spilled. "You can wrap it into a dress. There's so many different ways to do it. And then of course, a pair of jean shorts. Always need those." As for what you can expect to see Malin rocking this Fall? "I'm a big leather person, so I'm always on the lookout for new leather jackets that might be in style. I get excited to see what's coming up, but I have no idea what's on the horizon, so it's always a nice surprise." Shop some of Malin's favorite pieces below to nail her sexy-slash-rocker aesthetic!